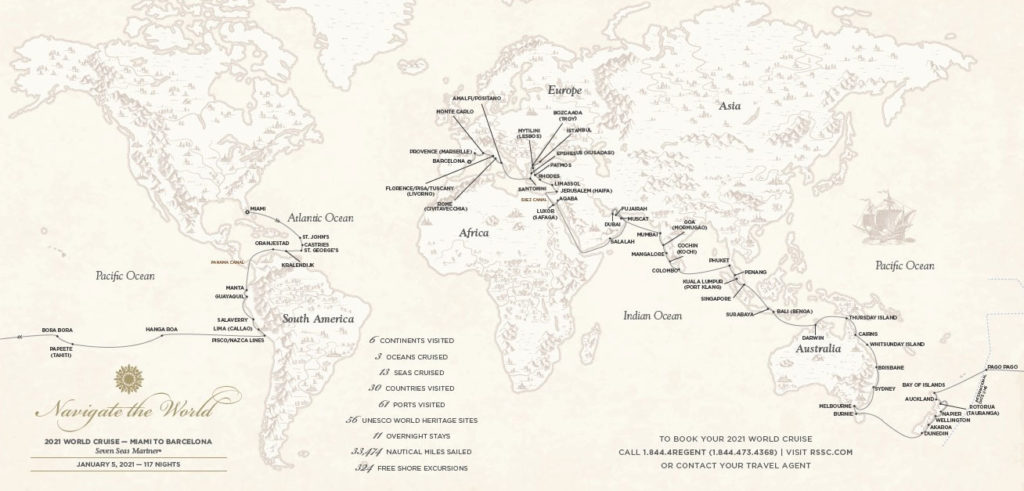 Regent Seven Seas Cruises announces its 2021 World Cruise that will provide guests with access to 56 United Nations Educational, Scientific and Cultural Organization (UNESCO)-designated world heritage sites across the globe.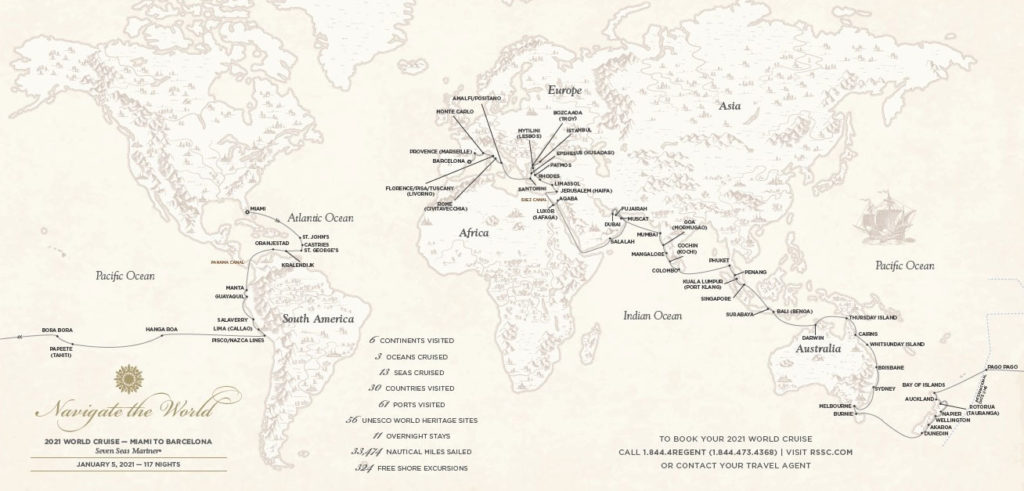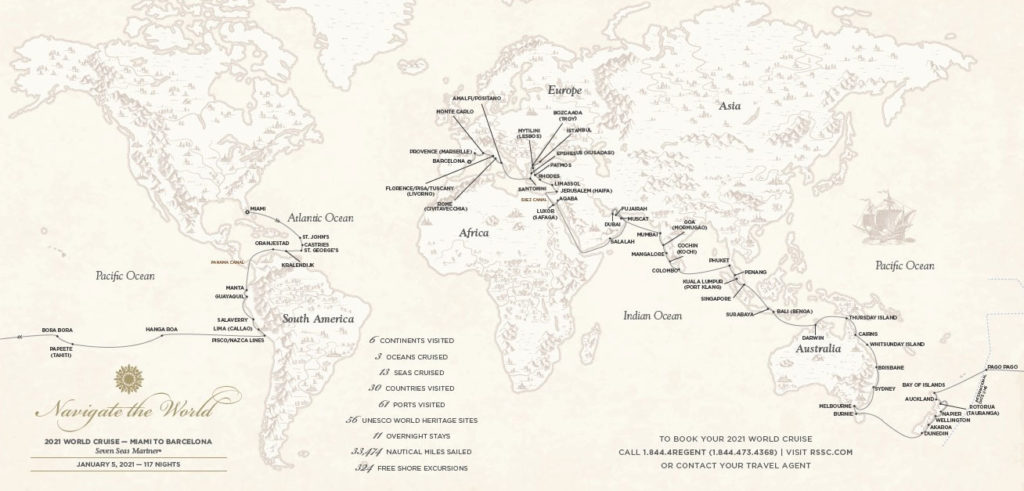 A world cruise conjures images of exploring the world's fascinating destinations on a multi-month luxurious journey. For those who wish to explore nearly all corners of the world in one epic voyage, Regent Seven Seas Cruises' 2021 World Cruise sails aboard the world's first all-suite, all-balcony ship, Seven Seas Mariner®, for 117 nights from Miami to Barcelona – visiting six continents, 30 countries and 61 ports across South America, French Polynesia, Australia, Asia and the Mediterranean, including 11 overnight stays.
This journey brings guests to famous cities such as Sydney and its famed Opera House and Dubai with its towering skyscrapers and bright lights. Yet, it is the lesser-traveled places that truly make this voyage a once-in-a-lifetime experience.
The voyage departs on Jan. 5, 2021.
World Cruise Highlights
Lost Empires
Embarking From Miami, guests will journey deep into the picturesque Caribbean islands before crossing the Panama Canal to explore South America's west coast. This leg of the voyage will include visits to the UNESCO World Heritage Site of Chan Chan — an ancient adobe city built by the predecessors of the ancient Incas — as well as Peru's Machu Picchu, Pisco's Nazca Lines and Easter Island's moai statues.
Untouched Islands
Sailing through turquoise waters between French Polynesia, New Zealand and Australia, guests will encounter beautiful beaches, pristine islands and majestic marine life, especially at lesser-known places like the Bay of Islands, a small and stunning district of New Zealand's Northland region featuring 144 islands. Other highlights include exploring the Great Barrier Reef and the 74 island wonders that comprise Whitsunday, the majority of which are uninhabited national park islands, making it one of the most pristine places in the world.
Ancient Sands
Making her way from Indonesia to Oman, Seven Seas Mariner will visit Asian destinations that are unlike any other, including Fujairah. The only one of the UAE's seven Emirates not located on the Arabian Gulf, the destination is set amongst the beautiful Hajar Mountains and surrounded by the clear blue waters of the Gulf of Oman. Compare that landscape to that of Petra, home to the famed Wadi Rum desert and ruins of Petra, which is lapped by the Red Sea.
Mythical Shores
In the Mediterranean, guests will visit Limassol, where they can stroll on a beautiful chalk-like coastline on Governor's Beach; Amalfi; and the lesser known Furore. Known for its magnificent fjord, it is a natural fortress that is hidden from the world and only lit by the sun in the afternoon, making it the perfect location for a dip after a delicious lunch.
Guests sailing this 33,500-nautical mile journey will enjoy overnight stays in Lima, Peru; Hanga Roa, Easter Island; Auckland, New Zealand; Brisbane, Australia; Bali, Indonesia; Singapore; Mumbai, India; Dubai, UAE; Luxor (Safaga), Egypt; Jerusalem (Haifa), Israel; and Istanbul, Turkey.
Highlights of the 56 UNESCO World Heritage Sites guests can visit include:
Great Barrier Reef off the shore of Cairns, Australia
Chhatrapati Shivaji Terminus in Mumbai, India
Old City of Acre outside of Jerusalem (Haifa), Israel
Medieval City of Rhodes in Rhodes, Greece
Palau de la Música Catalana and Hospital de Sant Pau in Barcelona, Spain
Archaeological Site of Troy in Bozcaada, Turkey
Bahla Fort (Muscat), Oman
Land Experiences
Regent Seven Seas Cruises is including these three unique land experiences exclusive to world cruise guests:
Mystical Moai Experience, Hanga Roa, Easter Island — January 27, 2021
There's no inhabited spot in the world quite so isolated as Easter Island. A mere dot off the coast of Chile in the vast Pacific Ocean, Rapa Nui, as it's called in the people's native language, is a one-of-a-kind destination making it the perfect place to join fellow world cruisers for an unforgettable shoreside experience. Explore Rapa Nui's pink-sand beaches, its volcanic cones and windswept grasslands, and of course, the monumental Moai statues — more than 800 of them bearing silent witness to a long-lost, complex society. Not only will you be able to see these incredible sculptures firsthand, but also participate in a recreation of a celebration called Tapati. Delight in folk music performances, body painting and an authentic dinner in this spectacular setting.
Arresting Australia, Brisbane, Australia — February 28, 2021
For more than a hundred years the Alcatraz of Queensland, Boggo Road, held hardened British convicts. Today its doors are wide open to shed light on Australia's infamous history as a convict nation. After a welcoming cocktail reception, guests will embark on an intimate and insightful tour of the facilities, where the drama and stories of prisoners are brought to life by guides, and will also have the unique opportunity to meet and chat with a former inmate. Surrounded by towering red brick walls, the prison yard is transformed into a dinner venue, where guests will dine and mingle.
Royalty of Wadi Rum, Aqaba, Jordan — April 11, 2021
The evening's celebration is set against the backdrop of a castle replica in Jordan's Wadi Rum where guests will enjoy a Bedouin tradition fit for royalty. In addition to a welcome by a traditional Dabke dance that is widely performed at weddings and other joyous events, more unforgettable entertainment includes belly dancing, traditional music performed by a Bedouin folkloric band, and artists adorning hands with Henna tattoos. As guests take in the serenity of the desert, they will delight in complimentary champagne and canapés before indulging in an enticing selection of authentic dishes and classic Arabian sweets.