Princess Cruises has launched its Luxury Bed for the first time in Asia on an Asia Sleep Tour which features the sleep doctor Dr. Michael Breus, who designed The Princess Luxury Bed to give guests the best sleep at sea.
Singapore is the first stop of this tour where Dr. Breus was invited to showcase the Luxury Bed to travel agents, industry partners and selected past passengers. Jakarta, Tokyo and Shanghai are the next stops of the tour.
The Princess Luxury Bed is the first and only bed onboard a cruise line designed by a board-certified sleep doctor utilising the latest in sleep science, research and technology, and is a critical part of the luxury travel experience offered by Princess Cruises. The Luxury Beds are part of US$450 million-dollar refurbishment campaign that will continue to enhance the line's onboard guest experience.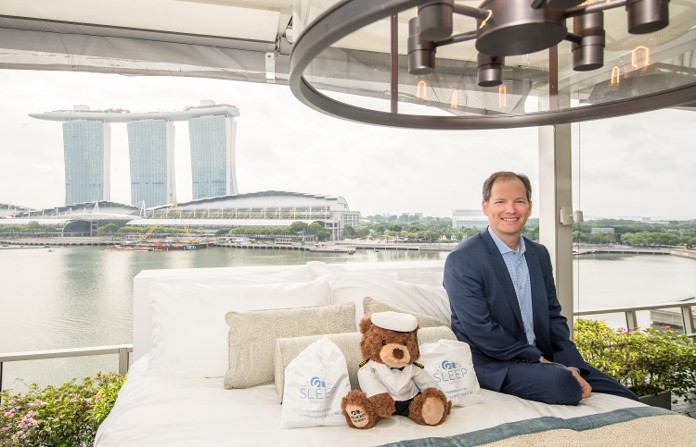 During the tour, Dr Breus will also share insights into the Princess Cruises Relaxation Report which included for the first time countries outside North America such as Singapore, Indonesia, Malaysia, Japan, China and South Korea. The survey revealed how the vast majority of people are not dedicating time for sleep or relaxation and use weekends to make up for sleep lost during the weekday.
"Sleep continues to trouble people around the globe and across generations, whether at home or while traveling. Sleep is a vital, sensory experience that allows our bodies to recharge and recover from mental and physical strains." said Dr. Breus. "By collaborating with Princess Cruises, I believe we've come up with some really unique aspects not just for the bed itself, but the entire experience that will allow guests to sleep really well."
By 2019, more than 45,000 Princess Luxury Beds will be fully rolled out to over 22,000 staterooms onboard all 17 ships. Currently the Luxury Bed is available onboard 14 ships with Diamond Princess getting her Luxury Beds fitted by the end of August. Royal Princess and Regal Princess will have theirs fitted in 2019.
"Princess Cruises is always innovating to offer a wide variety of new discoveries and relaxing options for our guests who seek unique experiences. The Princess Luxury Bed is an excellent example of one such innovation. Our guests in this region will be able to experience the Luxury Bed first-hand onboard Sapphire Princess and Diamond Princess during the upcoming homeporting season in Singapore from November 2018 to March 2019," said Farriek Tawfik, Director Southeast Asia, Princess Cruises.