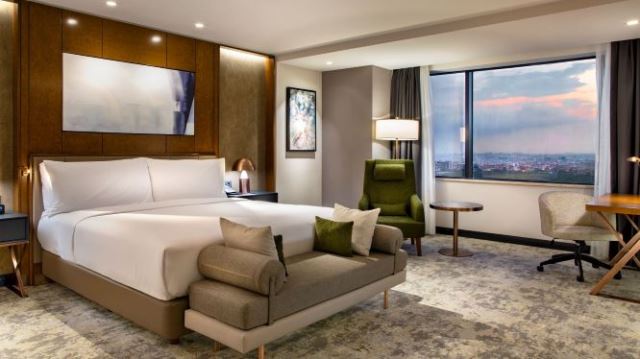 Istanbul's bustling business district today welcomed a stunning addition to Hilton's growing portfolio in Turkey – Hilton Istanbul Maslak. Boasting a stylish and chic design, beautiful interiors and unmatched amenities, including a dedicated art gallery, Hilton Istanbul Maslak promises both business and leisure travellers alike an unequivocal first-class hospitality experience.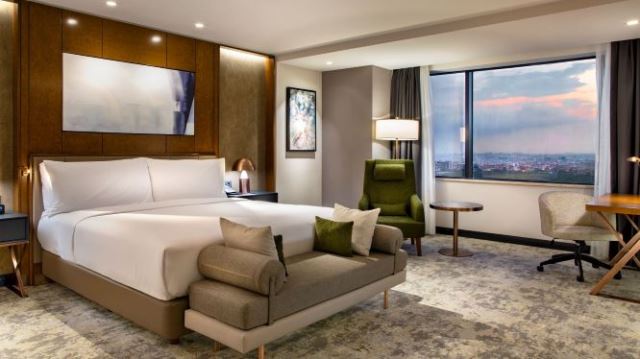 The hotel joins 61 existing Hilton properties in Turkey and is the latest addition to the hospitality leader's flagship Hilton Hotels & Resorts brand. Conveniently located just a 30-minute drive from Ataturk Airport and a short walk to the subway station, corporate offices, high-end shopping centers, and concert halls, Hilton Istanbul Maslak offers 284 contemporary spacious guestrooms, from Deluxe Rooms to Executive Rooms and Suites – all boasting a functional design and beautiful city views. Guests staying in the hotel's Executive Rooms also have exclusive access to the Executive Lounge, where they can sit back and relax or make the final touches to a work assignment, all while enjoying a continental breakfast or complimentary refreshments.
The perfect address for hosting a business meeting or a memorable occasion or event, Hilton Istanbul Maslak offers more than 6,600m² of event space, including a starlit rooftop venue, a 850m² pillarless ballroom, and 22 meeting rooms spread across three floors and that can accommodate up to 1,200 guests, all equipped with the latest and most sophisticated A/V technology.
The property's unique features also include a dedicated art gallery in the lobby area, which allows guests to catch a glimpse of the universe through a vibrant display of artistic talent from around the globe. Guests can experience the world of art and photography with the hotel's ever-changing art exhibition and enjoy a few quiet moments in the inviting lounge area. From the moment they walk in, visitors will feel inspired by the creative brilliance on showcase.
Home to offices of some of the world's largest multinational companies, as well as sports arenas, music halls, and designer brands, Maslak offers visitors the perfect combination of business, leisure, and entertainment. The booming Istanbul district is one of the busiest commercial hubs in Turkey, which continues to be a sought-after destination by both holiday-seekers and business travellers because of its immersive culture, beautiful land and seascapes, and role as a global business hub.
Hilton's continuous expansion in Turkey is a reflection of the country's bolstering tourism sector growth, which in turn has driven the demand for quality accommodation. According to Turkey's state news agency, Anadolu, the country hosted 32.4 million foreign visitors in 2017, a 28 per cent increase from the previous year, and is expected to see a record high of 40 million tourists in 2018, with its tourism generated income climbing over USD $30 billion by end of the year. Both the country and the city of Istanbul have been ranked among the world's top MICE destinations because of their place on the map as a bridge between East and West.
HILTON ISTANBUL MASLAK HIGHLIGHTS
Contemporary hotel in the heart of Istanbul's Maslak business district, conveniently located just a 30-minute drive from Ataturk Airport and a short walk to the subway station
Dedicated Art Gallery on the lobby level, featuring an ever-changing exhibition of artistic talent from around the globe
Wellness Spa equipped with a sauna, Turkish hamman, steam room, massage and Pilates room, and VIP spa suites
More than 6,600m² event space, including a starlit rooftop venue, a pillarless ballroom, and 22 meeting rooms, all equipped with the latest A/V technology
Fully equipped 24-hour fitness centre and a 60m² squash court
Nearby local attractions include the Istinye Park and Zorlu Performing Arts Centre, Uniq Hall, the Volkswagen Arena, and the Turk Telekom Football Stadium
GUESTROOMS
284 contemporary and spacious guestrooms, including Deluxe Rooms, Accessible Rooms, Executive Rooms, and Suites, all with functional design and stunning city views
Guestroom options include connecting rooms furnished with queen-sized beds, perfect for groups with double accommodation and families
Executive Lounge access for guests staying in an Executive Room
Complimentary Wi-Fi
Both bathtub and walk-in shower in most Deluxe, Executive, and Suite rooms
Espresso machine in Executive Rooms and Suites
49-inch LCD TV (55-inch screen for suites) and working space
DINING
Lobby Lounge & Bar offers an elegant and comfortable setting perfect for afternoon tea, local delights, and after-dinner beverages
Vitamin Bar offers nourishing, freshly-squeezed juice options, as well as detoxifiers, milkshakes, and special blends
Zaxi Bar invites guests to a lively social hot spot offering a bespoke beverage menu and specialty cocktails created by the city's most talented mixologists
Zaxi Restaurant & Bar offers elegant luxury, entertainment and energy through its 'Fun, Fine & Dining concept'
BUSINESS & EVENTS
6600m² total convention space spread across three floors and the rooftop
22 meeting rooms that can accommodate up to 1200 guests
Meeting rooms feature a sophisticated design and abundant daylight combined with the latest business friendly technology
Stunning multifunctional starlit rooftop venue with 180-degree city and Bosphorus views
All-day dining venue for custom groups and special events
850m² pillarless ballroom, also with flowing daylight
Substantial pre-function areas
State-of-the-art business centre offering a wide range of services and facilities and an ideal working environment for working