Holland America Line Academy is introducing a new interactive e-Learning platform at GoHAL.com, which will reward travel professionals for their educational achievements. Travel professionals can earn the distinction of a Silver, Gold or Platinum reward level by completing a combination of core courses and specialist courses. Holland America Line Academy also features a new specialist course called Northern Europe: Its Iconic Cities, Hidden Gems and Scenic Beauty.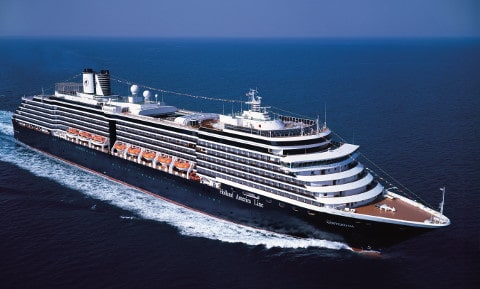 Three Levels Add Up to Great Rewards and Future Bookings
At Holland America Line Academy, travel professionals can earn continuing education credits with Cruise Lines International Association, Association of Canadian Travel Agencies and The Travel Institute.
To achieve the Holland America Line Academy Silver level, travel professionals must complete all four Core Courses. By doing so, travel professionals receive awards including a diploma, graduate lapel pin, luggage tag and US$50 shipboard credit on a Travel Professional Appreciation or full-fare cruise booking.
Silver-level graduates and above also are automatically entered into a monthly drawing through September 2018 for a chance to win a Holland America Line swag bag and into a sweepstakes with a grand prize of a 2019 seven-day cruise for the winner and a guest on Nieuw Statendam.
Gold status is achieved by continuing education and completing two specialist courses and earns travel professionals all Silver benefits plus additional continuing education credits, Gold diploma and on-board welcome letter and personal call from the ship's dining room manager. Platinum level requires the completion of three total specialist courses and, in addition to Silver and Gold benefits, provides priority boarding to travel professionals sailing with Holland America Line.
Agency owners also will benefit by earning rewards that match up to the highest level achieved by a travel professional in their agency, including receiving the PartnerSHIPS e-mail newsletter, $50 in onboard spending money with an applicable booking and priority boarding, among other perks.
Learn How to Sell Northern Europe with New Specialist Training Course
Northern Europe: Its Iconic Cities, Hidden Gems and Scenic Beauty takes approximately 20 minutes to complete and includes information about the features and benefits of a Holland America Line cruise to this region. Travel professionals will gain valuable insights into the destination, identify the best prospects and get exclusive insider information on Northern Europe cruising to close more sales and earn more commissions. In addition, travel professionals will have access to a set of downloadable e-tools to help market Northern Europe cruises.
The Holland America Line Academy Specialist Training Courses series launched in July 2016 with Alaska and the Yukon: The Great Land = Great Sales for You and continued with The Panama Canal and More, Selling and Sailing in the Mediterranean, and Grand Voyages: Oceans Traveled, Journeys Savored, Dreams Fulfilled. The award-winning courses are designed to offer learning through a combination of video instruction, reading and interaction.