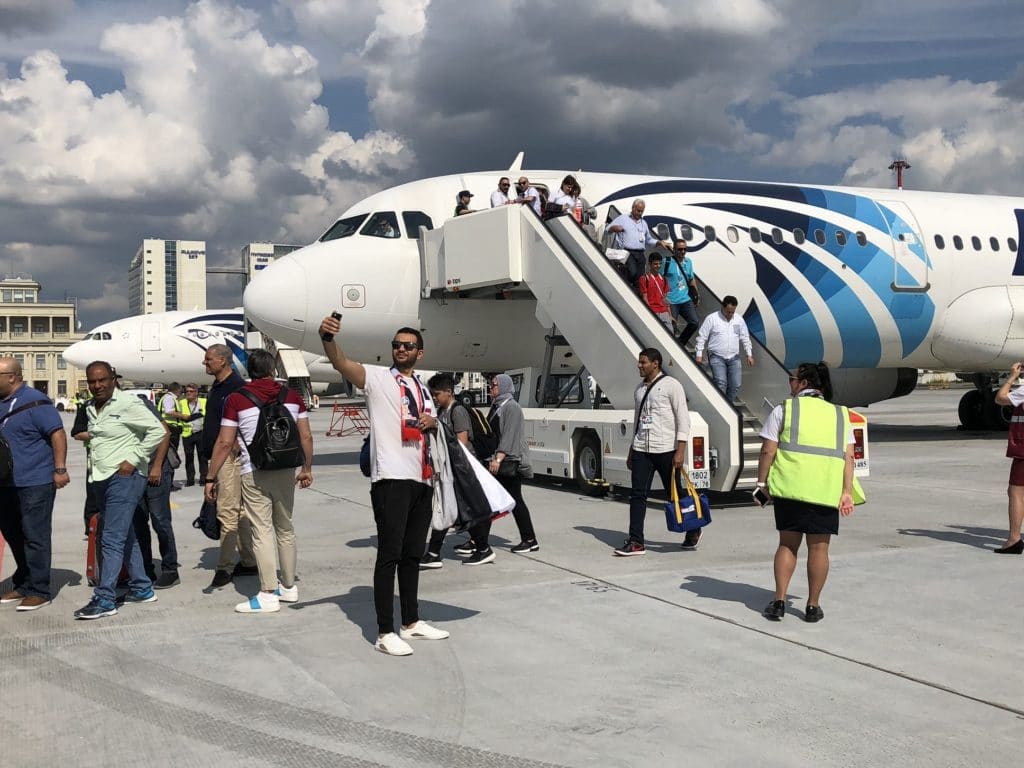 During the 2018 FIFA World Cup, from June 13 to July 15, 2018, Pulkovo St. Petersburg Airport welcomed 2.2 million passengers, which represents an 11.4% increase in traffic numbers over the previous year. The number of passengers on domestic flights amounted to 1.2 million people (+8.9%), while 1 million passengers took international flights to or from Pulkovo in the same period (+14.5%).
From June 13 to July 15, 2018, the airport of the Northern capital of Russia handled a total of 18,793 air traffic movements, of which 11,001 were domestic flights and 7,792 international flights. Over this period, these included 1,726 inbound and outbound flights by business aviation aircraft.
The peak day for Pulkovo airport, in terms of passenger traffic and take-offs and landings, was July 11, 2018, the day after the World Cup semi-final game between Belgium and France in St. Petersburg. On this day, the airport welcomed 74,608 passengers and 884 in- and outbound flights, including 264 private jet take-offs and landings.
During the 2018 FIFA World Cup, Pulkovo Airport greeted national teams from 16 countries participating in the championship: Russia, Morocco, Iran, Saudi Arabia, Egypt, South Korea, Brazil, Nigeria, Argentina, Costa Rica, Croatia, Sweden, Switzerland, England, France, and Belgium. The foreign teams brought to St. Petersburg a total of more than 27 tons of baggage. The largest delegation with the heaviest baggage was from Saudi Arabia (62 people and 8.64 tons of baggage). In total, airplanes with football teams onboard performed 67 flights to and from Pulkovo.
The airport commissioned a temporary terminal in the former Pulkovo-2 building to service football fans coming to the World Cup games on charter flights. The terminal was equipped with pre-flight check, customs and border control facilities for inbound and outbound flights. In April, airport staff, the authorities and more than a thousand of volunteers tested the new infrastructure. The temporary terminal hosted fan groups from June 13 to July 11. During this period, Pulkovo-2 handled 127 flights and over 11,000 football fans from France, Morocco, Iran, Egypt, Germany, Sweden, England, Belgium and Switzerland. The most charter flights with fans arrived from Egypt (46 flights, 3900 passengers arriving and departing). Unique baggage items on all flights included fans' drums of all kinds.
During the championship, Pulkovo welcomed on its aprons aircrafts of 11 airlines that are new to St. Petersburg airport: ASL Airlines France, Royal Air Maroc, Egypt Air, Jordan Aviation, Helvetic Airways, ALK Airlines, Ernest, Maleth-Aero, Blue Panorama Airlines, GainJet Aviation and TUI Airlines Belgium.