Renaissance Hotels today announced the opening of Renaissance Philadelphia Downtown Hotel following a multi-million dollar renovation. This anticipated opening further reinforces the brand's significant growth momentum around the world with upcoming openings planned in neighborhoods from Harlem to Hangzhou, and from Chelsea to Taipei.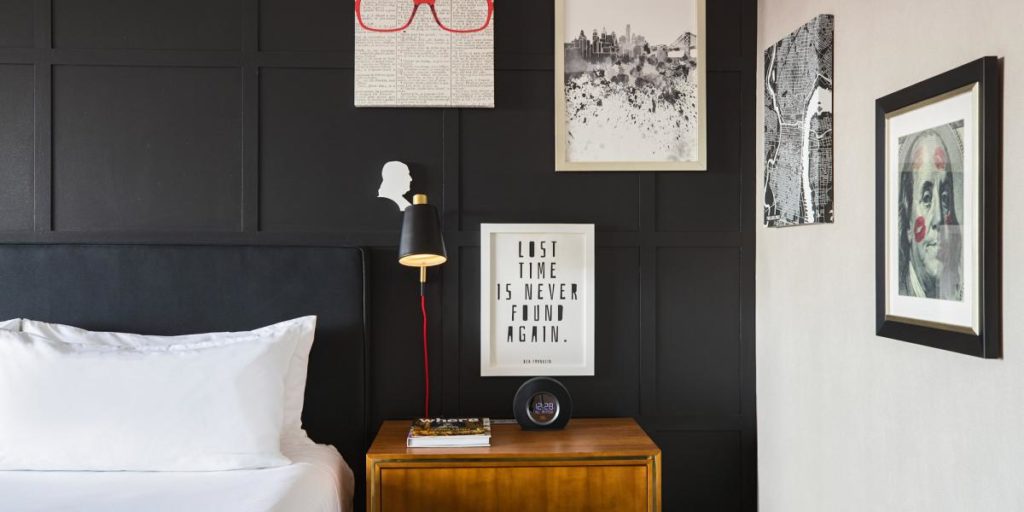 In the heart of Old City Philadelphia, the 152-room hotel sets the stage for the spontaneous with unexpected design elements around every corner. Designed by award-winning firm Campion Platt, the hotel pays homage to the cultural history of the city with a clever irreverence from playful portraits of Benjamin Franklin's five mistresses, created with pixelated $100 bills tucked away in Chez Ben restaurant, to pop-art inspired images of famous Philadelphians adorning each of the guestrooms.
Upon arrival, guests are guided through The Alley inspired by the city's famed Elfreth's Alley, which was once home to the 18th-century artisans and trades-people – the backbone of colonial Philadelphia. Employing a combination of grit and glittering finishes, the design of The Alley is anchored by a ceremonial staircase clad in blackened steel and backlit with luminous panels, which perfectly juxtaposes a 100-foot long graffiti wall by local artist Dan Murphy.
Renaissance Philadelphia Downtown Hotel features all the brand's unique experiences, including the hotel's Navigator, who helps guests experience the neighborhood's soul by highlighting handpicked local discoveries. The hotel also offers Evenings at Renaissance where guests can experience the locale through nightly programming, often featuring emerging artists and musicians and tastings from local spirits purveyors that are hidden gems not known to all.
Like the hotel's design, the culinary experiences are poised to inspire stories worth retelling.
– Chez Ben Restaurant celebrates the French brasserie in quintessential Philadelphia Old City language. The bistro features a stone clad bar, an industrial-style wine cave and a café counter boasting coffee specialties from Philadelphia's own La Colombe, fresh juices and buttery pastries all day. A raw bar, tarte flambee and globally-inspired entrees such as blood orange duck breast with sunchokes and whole grilled daurade are a few highlights of the extensive menu.
– Brown's, a retro-contemporary cocktail bar, specializes in long-aged brown liquors sourced from around the globe, in conjunction with a classic and specialty cocktail menu. The bar's drink and small plates menu (boasting such dishes as Scotch-cured salmon tartine and sliders made with merguez sausage) embodies the idea that "everything gets better with age." A bold painting commissioned by Philadelphia-born artist Marc Lafia hangs above the fireplace. Mixologist and beverage director Rachel Kovenetsky created the lounge's specialty cocktails.
Guests can find repose in the intimate and locally-inspired haven, featuring a 24-hour fitness facility equipped with state of the art equipment, weights and personal training services; an indoor pool and sauna; and four meeting rooms, amounting to 4,354 square feet of meeting and social space. The hotel is also pet-friendly, welcoming up to two pets per room.