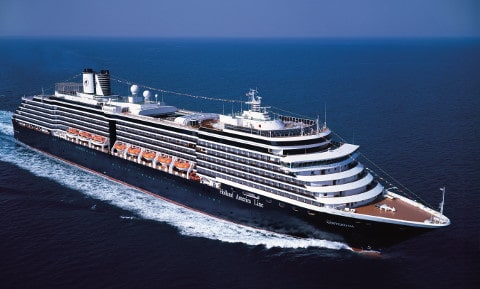 On-the-go travel professionals now have an easier way to learn about Holland America Line through a new PartnerSHIPS Podcast series exclusively for travel professionals. Delivered bi-weekly beginning this week, the podcasts will explore the brand and offer tips and news to ensure travel professionals have the tools they need to sell Holland America Line's premium cruises. The PartnerSHIPS Podcasts can be accessed at GoHAL.com.
The podcast series builds on Holland America Line's trade promise that debuted earlier this year, pledging the cruise line's commitment to providing the most comprehensive support to its travel partners and an exceptional cruise experience for their clients.
With podcasts at only 10 to 20 minutes in duration each, travel professionals can stay current on all things Holland America Line by listening to them whenever, wherever and however is most convenient. The first two podcasts in the series already are available:
"Grand World Voyages" with President Orlando Ashford and Senior Director, Trade Communications and Engagement, Denella Ri'chard.
"Explorations Central: Part 1" takes a closer look at Explorations Central programming with Bill Fletcher, senior director of Destination Marketing.
Tools and Training Make Travel Partners Brand Experts
In addition to a more strategically designed sales department, Holland America Line is dedicating more resources to help travel professionals deepen their knowledge of the cruise line's products and itineraries. New Holland America Line Academy Core Courses and Specialist Training Courses are designed to establish agents as experts in the brand, while the North America PartnerSHIPS Sales Seminar Series brings Holland America Line's latest news and initiatives to its partners in person and through webinars.
GoHAL.com, Holland America Line's award-winning portal for travel professionals, is a one-stop shop with marketing tools and access to information that guides agents and sets them up for success.