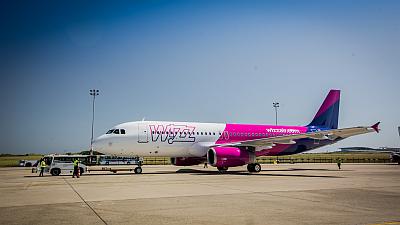 c Vienna. The new low fare routes provide countless opportunities for leisure and business travellers to plan their trip to these popular destinations with fares from just €19.99 / GEL 49.99.
WIZZ started operations from Kutaisi International Airport in 2012 and after 6 years of successful operations, as part of its great expansion across Europe, the airline introduces 7 new routes from Kutaisi across Europe. Further diversifying its low fare network from Kutaisi, WIZZ offers now 21 routes to 14 countries. The airline continues to invest in its local base by allocating the second modern Airbus A320 on 17 May, a further investment of $ 101 million**, and employing additional 36 local crew.
WIZZ, as the pioneer of low-fare air travel across Europe and in Georgia, is continuously expanding its network by bringing affordable travel opportunities between Kutaisi and the rest of Europe. In the first three months of 2018, 51% more passengers travelled with WIZZ on Georgia routes than in the same period of the previous year. WIZZ's fast-growing operation in the country will further stimulate the local economy as it has done for the last decade, by increasing employment in Georgia's aviation and tourism sectors and supporting more than 230 jobs*** in 2017.
This year, WIZZ offers more than 720 000 seats from Georgia in 2018, with a growth of 94% on a year on year basis, as the airline is looking to respond to the increasing demand for its low fare tickets and great travel experience.