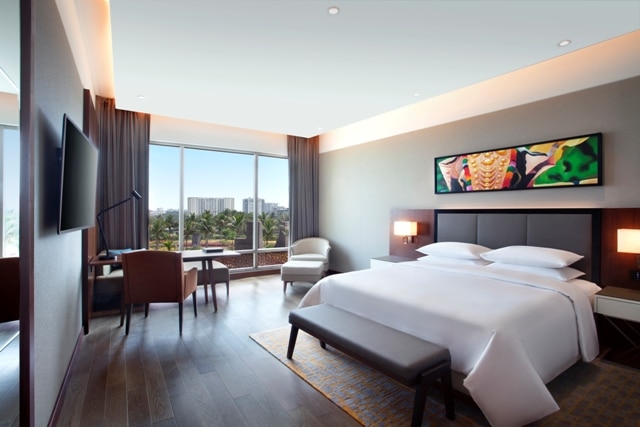 Hyatt Hotels Corporation announced today the opening of Grand Hyatt Kochi Bolgatty, the third Grand Hyatt branded hotel in India. The 264-room luxury hotel is a waterfront urban resort situated in Kochi in the south Indian state of Kerala, known for its palm-lined beaches, backwaters and historic Spice Route in India. With its striking architecture, dramatic landscapes, opulent guestrooms and suites, dining destinations, and one of the largest event spaces in South India, Grand Hyatt Kochi Bolgatty is expected to be an iconic destination for impressive views, unforgettable experiences and grand events in the city.
Designed by architects from Wimberly Allison Tong and Goo UK Limited, Grand Hyatt Kochi Bolgatty is located near the historic and picturesque town of Fort Kochi. The resort is owned by Lulu Group International and is adjacent to the sprawling Lulu Bolgatty International Convention Center, the largest in South India.
Together, the hotel and convention center offer an abundance of authentic experiences for guests, helping them create moments of more through several offerings, including:
Guestrooms
The hotel features 264 bold, luxurious guestrooms including 38 suites, comprised of 33 Grand Suites, four Executive Suites, and one Presidential Suite, as well as three two-bedroom villas and one three-bedroom villa.
Destination Dining
The best-in-class restaurants and bars at Grand Hyatt Kochi Bolgatty share exemplary service and multicultural flavors, leaving guests with unforgettable dining experiences.
Malabar Café is an all-day modern café that offers flavored interpretations of traditional Kerala and South Indian recipes fired with Malabar spices.
Thai Soul is a vibrant poolside restaurant inspired by authentic Bangkok street food, serving original recipes, iconic flavors and brilliant cooking with a spirit for sharing and informal dining.
Colony Clubhouse & Grill is an elevated old-world grill on the hotel's rooftop serving delectable dishes with colonial and Arab influences, and an emphasis on seafood. This dining destination is the perfect place to unwind with a hand-crafted cocktail and stunning views of the Vembanad Lake.
Meetings and Events
Grand Hyatt Kochi Bolgatty features 32,290 square feet of versatile space, including a Grand Ballroom and smaller residential-style meeting rooms, creating endless opportunities for bold creativity. With a breathtaking location on the waterfront of Bolgatty Island, guests will find Lulu Bolgatty International Convention Center—managed by Grand Hyatt Kochi Bolgatty—one of the largest luxury convention facilities in South India. The convention center is a meticulously planned venue, each space interlinked to maximize flexibility for large events.
Wellness and Activities
Śāntata, the luxurious spa at Grand Hyatt Kochi Bolgatty, offers a modern well-being experience with traditional ayurvedic and contemporary international spa treatments. Spanning more than 11,000 square feet, the spa features seven treatment rooms, an indoor swimming pool, relaxation lounges and a hydrotherapy area. The hotel also features a landscaped outdoor swimming pool and children's pool, a waterfront amphitheater, exploration gardens including a spice garden, an outdoor yoga lawn, a multi-purpose court, a children's play area, a beauty salon and three helipads. For guests who prefer to experience Kerala's tranquil backwaters, the island has a private jetty. Leisure facilities at the hotel include a Grand Club lounge and a 24-hour Fitness Center.
Memorable Experiences
For guests looking to explore the local community, Grand Hyatt Kochi Bolgatty provides a selection of extraordinary activities and locally inspired experiences, such as a cultural cycling tour of Fort Kochi, morning bird watching at Dr. Salim Ali Bird Sanctuary, or an opportunity to get up close and personal with elephants at Kodanad. While in the city, guests can walk down the Indian spice trade route and view architecture from the British, Portuguese and Arab eras or enjoy the evening watching various Kerala art forms such as Kathakali and Kalarippayat. The serene backwaters and Chinese fishing nets are a must watch, while the old Portuguese houses and remains of the British Raj take you back in time.
Grand Opening Offer
To celebrate its opening, Grand Hyatt Kochi Bolgatty is now offering guests a complimentary daily breakfast (per registered guest) at Malabar Café, a 30-minute back massage and foot ritual at Śāntata Spa and more. The Grand Opening offer is valid for stays now through July 27, 2018. Visit the hotel's website to learn more.