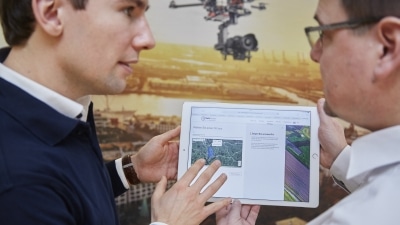 SafeDrone by Lufthansa Technik now offers a new online platform called SafeDrone-Works for professional drone services, helping potential customers and quality-assured service providers come together. The platform's standardized process saves customers a lot of time and effort in creating their requests and offers, making the offer process significantly more efficient.
In order to guarantee the highest possible quality, all drone pilots and service providers are thoroughly checked by SafeDrone in advance. They are required to produce a drone pilot license in the form of proof of knowledge, experience and references as well as suitable drones and valid insurance coverage. Customers can also assess the service providers using a transparent evaluation system, thus ensuring quality over the long term.
However, the online platform is not only useful to customers, but also to providers of professional drone services. They no longer have to deal with time-consuming tasks, thanks to templates for invoicing and the fiduciary processing of payments. They are also guaranteed payment security by the customer. This service is free to all service requesters.
"With our online platform SafeDrone-Works, we have created a transparent marketplace for professionals that offers numerous benefits for providers of drone services and their customers. Customers save a lot of time and can choose from a selection of quality-assured drone service providers, who in turn benefit from payment security and can concentrate entirely on carrying out their orders. This really helps market development," said Ulrich Hoffmann, project manager at SafeDrone.
"SafeDrone-Works" is currently available to the German market.