The Ritz-Carlton Hotel Company L.L.C. announces the debut of The Ritz-Carlton Ras Al Khaimah, Al Hamra Beach, the second luxury resort for The Ritz-Carlton brand in Ras Al Khaimah, and the brand's fifth property in the United Arab Emirates.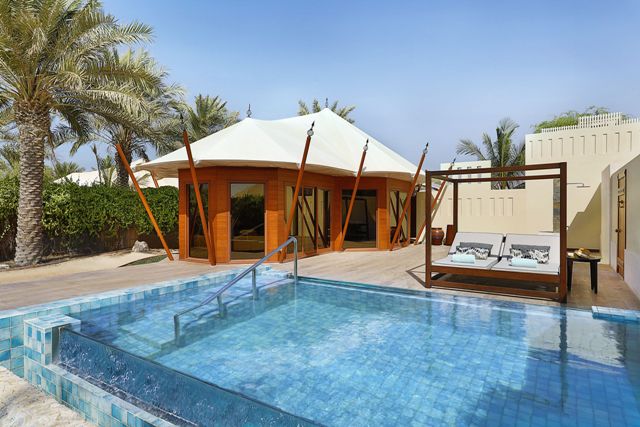 Located on the shores of the Arabian Gulf, just one hour away from the urban metropolis of Dubai, The Ritz-Carlton Ras Al Khaimah, Al Hamra Beach is the perfect getaway, seamlessly blending natural beauty and timeless luxury to create an intimate beach retreat. The resort features 32 luxurious tented villas, each with its own pool and direct beach access, offering comfort and privacy complemented by breathtaking views and indulgent amenities. Guests can choose from two types of villas. The Al Naseem Villas feature local design elements inspired by traditional Bedouin architecture and offer an elevated level of seclusion, while the Al Bahar Villas include open views and private beachfront access.
Immersive programming gives guests the opportunity to explore Ras Al Khaimah's kaleidoscope of experiences along the shores of the Al Hamra Beach. Resort guests can discover the natural beauty of the area with an afternoon of paddle boarding, a fishing trip on the coast of Ras Al Khaimah, a sunrise or sunset yoga experience overlooking the seashores, or simply enjoying the resort's private beach. Meanwhile, young guests can explore the natural wonders and cultural traditions of the destination through the Ritz Kids® program, where they can explore the beachfront, gain a better understanding of the marine life through educating yet fun beach activities, or develop their inner artist with beach-inspired arts and crafts.
Resort guests can recharge at The Ritz-Carlton Spa, a seaside sanctuary offering holistic treatments in the comfort of dedicated treatment pavilions. This world class spa offers a select menu of local, ocean inspired treatments prepared with flowers and native spices. Two fitness centers are also available 24 hours for guests.
Fresh seafood and cuisine prepared with a local twist can be experienced while enjoying endless sea views from the resort's signature Shore House restaurant, which showcases gastronomic excellence with fresh catches from the sea and local produce. Meanwhile, exotic sundowners are served every day at sunset on the bar lounge. Those who want a more private dinner experience can choose to dine on the beachfront, in a secluded beach cabana overlooking the crystal blue waters of Ras Al Khaimah or on the beachfront.
Additionally, guests wanting to explore The Ritz-Carlton Ras Al Khaimah, Al Wadi Desert can do so easily with a daily shuttle bus traveling to and from the two resorts. Activities such as nature walks through the Al Wadi Nature Reserve, archery or wildlife entertainment with owl and falconry shows can be arranged for a day of desert exploration, truly offering something for everyone in Ras Al Khaimah.