MSC Cruises announced today that sales for MSC Grandiosa are now open. For her inaugural season, the much-awaited first MSC Cruises Meraviglia-Plus generation ship will set sail in the Western Mediterranean.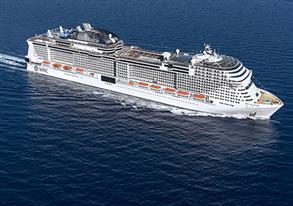 Sales for MSC Grandiosa will open for an initial two-week period exclusively for members of the MSC Voyagers Club, the loyalty rewards programme for MSC Cruises guests. For all other guests, sales will open on March 19th.
The new ship will bring to her guests, amongst other features, two brand new shows from Cirque du Soleil at Sea, created exclusively for MSC Grandiosa guests. This is part of a long-term partnership between MSC Cruises and Cirque du Soleil, the world leader in artistic entertainment, Cirque du Soleil, and that will result in a total of eight original shows that will be available on MSC Cruises' four Meraviglia and Meraviglia-plus generation ships. Four other exclusive to MSC Cruises Cirque du Soleil at Sea show feature, two for each ship, on MSC Meraviglia and MSC Bellissima.
MSC Grandiosa will showcase an even larger Mediterranean-style promenade, the ground-breaking feature unique to the Meraviglia and Meraviglia-plus prototypes, that serves as the social hub of the ship with an array of shops and specialty restaurants as well as a new bar and lounge, L'Atelier Bistrot that will offer lounge seating with a stage and a dance floor, impressionist art will be on display in this space will also have "terrace "seating with Parisian Bistrot tables and chairs on the Promenade. Throughout the day and the evening, this award-winning promenade hosts surprise performances, including flash mobs and themed parties as well as the awe-inspiring projections on the even longer 98.5-metre LED Sky screen.
The industry-leading shipboard digital innovation programme MSC for Me will allow guests to customise their holiday and enhance their cruise experience. As the Company continues to evolve and innovate the digital offering, guests can expect new features, offering a connected cruise experience to meet their individual needs.
Other MSC Grandiosa highlights include:
• Seven nights in the stunning Western Mediterranean calling at six beautiful Mediterranean ports Genoa, Civitavecchia, Palermo, Valletta, Barcelona and Marseille. Whilst in port, guests can enjoy a wide variety of shore activities, designed to the needs of different types of cruise guest from families through to adventurous couples, allowing an immersive discovery of each destination's distinctive culture and history.
• New family activities and entertainment building on the already extensive and award-winning offering . The DOREMI Lab will offer new themes each day, while the DOREMI Studio Lounge focusses on allowing children to have fun through the magic of music, with the possibility to record songs and star in their own music videos. This multitude of concepts ensure that children of every age will have an unforgettable holiday at sea.
• Restaurant options on board include a choice of at least 12 different dining venues, ranging from specialty restaurants to the buffet and serving fresh, authentic food each and every day. A new restaurant concept will be introduced on the Promenade exclusively for MSC Aurea experience guests.
• The MSC Yacht Club will continue to offer the more discerning cruise guest a luxurious stay in the ship within a ship concept with key features such as the stylish Top Sail lounge, stunning One Pool Deck, private restaurant and butler service.
When booking MSC Grandiosa over the initial two-week opening of sales period exclusive to them, MSC Voyagers Club members will receive a special 5% discount in addition to their 5% loyalty discount as well as benefitting from being able to have the first selection of cabins. Other guests will also enjoy a 5% early booking discount until the 4th September 2018.