Embarking on a comprehensive exploration of the Southern Hemisphere from Miami to Rome, Crystal Serenity's 2020 World Cruise offers travelers a journey filled with tropical havens, ancient treasures and modern marvels. The 105-day "Epic Empires and Idyllic Isles" voyage marks Crystal's 25th World Cruise, and visits 47 cities in 23 countries from January 6th, 2020 to April 21st, 2020.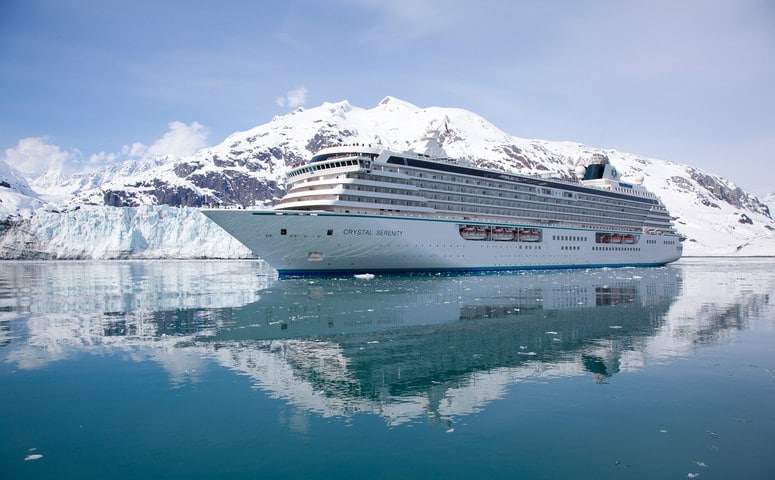 The journey also transits the Panama and Suez Canals, as well as the Pacific and Indian oceans and Andaman, Tasman and Mediterranean seas. Overall, the itinerary features dozens of diverse cultures and UNESCO World Heritage Sites, balanced with adventurous terrain and island retreats, and is available in seven focused segments of 13 to 18 days, as well as the full World Cruise voyage. Additionally, full world cruisers will have the option to embark in Los Angeles for an 89-day voyage beginning on January 22nd, 2020 culminating in Rome on April 21st, 2020.
Highlights of the 2020 "Epic Empires and Idyllic Isles" World Cruise include:
Overnight stays in 17 fascinating cities, including Sydney, Singapore and Mumbai;
An immersive South Pacific sojourn visiting nine idyllic isles with overnights in Bora Bora and Papeete (Tahiti);
A port-intensive tour of New Zealand, showcasing its dramatic fjords, breathtaking sounds and legendary winelands, with opportunities to visit Queenstown;
An exploration of Australia's sun-drenched eastern coast with maiden calls in the resort towns of Mooloolaba and Airlie Beach, and discovery of the Great Barrier Reef;
A journey through Indonesia, Singapore, Malaysia and Thailand, en route to Sri Lanka, home to a staggering collection of UNESCO World Heritage treasures and maiden port of Hambantota;
Overnights in Cochin and Mumbai and the ancient empires in Oman, Israel, Jordan and Egypt;
Visits to lesser-explored Mediterranean destinations including Larnaca, Aghios Nikolaos (Crete) and Siracusa, before concluding in The Eternal City of Rome.
Wolber shared Crystal's 2020 World Cruise itinerary to guests aboard the current 2018 World Cruises at a celebration at Sydney Town Hall on February 17 where travelers aboard both Crystal Symphony and Crystal Serenity came together for a one-of-a-kind event. The 2020 World Cruise and its segments will first be open for deposits and booking for current 2018 World Cruise guests, priority wait list guests and Crystal Society members. The cruise will be open to book for the general public on May 1st.
Guests booking the full World Cruise enjoy special benefits and amenities, including a welcome celebration dinner aboard Crystal Serenity on the eve of departure, "As You Wish" shipboard spending credits of up to $2,000 per guest; complimentary private car and driver transfers between the ship and airport; two exclusive shore-side events; special World Cruise-themed onboard events; and special gifts.
By sea, river, land or air, Crystal is redefining the way the world views luxury travel. The world-renowned Crystal Experience – featuring global journeys with Crystal Cruises, Crystal River Cruises, Crystal Yacht Expedition Cruises, Crystal AirCruises and Crystal Luxury Air – continues to entice the world's most discerning travelers with incomparable luxury and unparalleled personal service. Crystal will expand its fleet with the upcoming Crystal Debussy and Crystal Ravel river ships, the Crystal Endeavor expedition yacht and an entirely new class of ocean ships over the next five years.