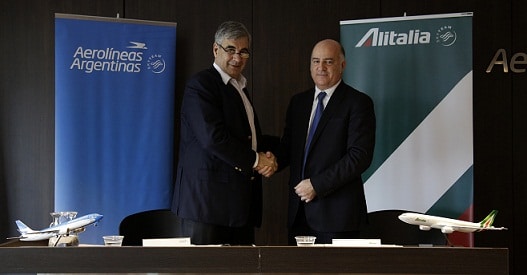 Alitalia and Aerolíneas Argentinas announced today the signature of a Joint Business Agreement (JBA), which will allow both airlines to coordinate commercial efforts to provide business and leisure travelers with wider and better travel choices, more convenient schedules and wider selection of customer proposition. It will also allow the two airlines to harmonize the customer experience and deliver seamless world-class airline product between Argentina and Italy.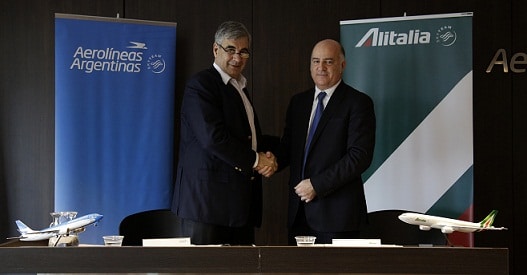 Both companies entered into a code-share agreement in 2017. The agreement signed today between Aerolíneas Argentinas and Alitalia is an unprecedented step in the country and will deeper the existing cooperation allowing to reach a greater number of destinations in the extensive networks that both operators offer in Argentina and Italy.
This JBA seeks to find ways to jointly coordinate more convenient schedules and connections, as well as eventually add new destinations. Additionally, it will allow both companies to share know how and best practices.
A key driver for the signature of this JBA is the growth potential of the exchange between Italy and Argentina, and the possibility of capturing it using the experience and knowledge of both companies.
The agreement will enter into effect and be implemented once it has been cleared according to applicable regulation on competition and approved by any competent regulatory authority.
There are more than 20 JBAs around the world, as part of a trend which has experienced an exponential growth in the global aviation market: in only a decade international seats offered under this type of agreements went from 7% to approximately 75%. This allows profitable competition on international routes without the need for acquisitions or large capital bets in fleet or other resources.