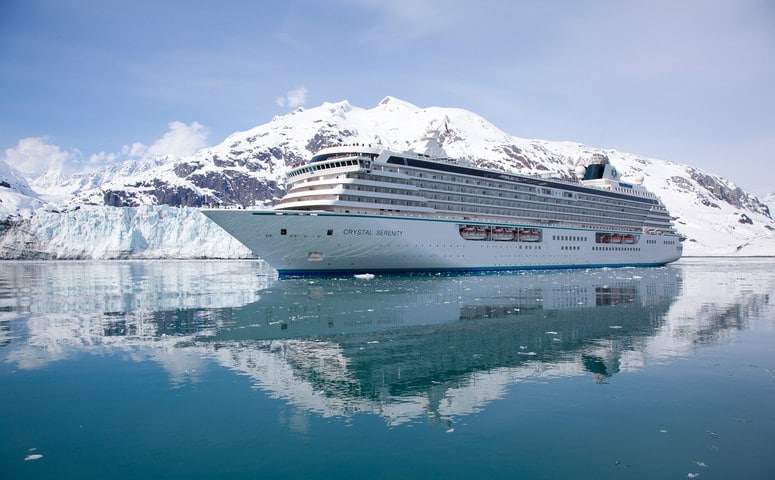 Crystal Cruises has unveiled its guide to its award-winning global itineraries, the Worldwide Atlas for 2018 and 2019. The brochure features the comprehensive collection of voyages aboard Crystal Symphony and Crystal Serenity including innovative itineraries ranging from six to 129 days, maiden calls and immersive destination experiences. Within its 212 pages, the atlas also draws travelers into the enriching and varied activities on board the ships.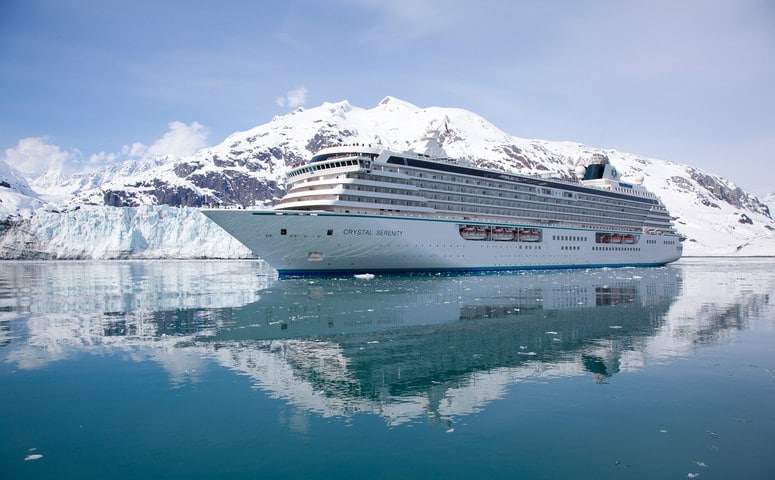 "The Worldwide Atlas is the ultimate planning tool for travelers, comprising the entirety of the Crystal Experience, beyond itinerary details to the nuances of the personalized service, and the experiences on board and ashore that enrich the journey," says Carmen Roig, senior vice president of marketing and sales.
Destination and itinerary highlights featured in this edition of Crystal's atlas include:
2018 – 54 total voyages
Two epic World Cruise voyages that bring the sister ships together for a soiree in Sydney, allowing guests to continue their global journey from there on the opposite vessel;
An overnight maiden call to Manila, Philippines on an immersive Southeast Asia voyage;
A return to the Holy Land and Arabian Gulf, with a maiden call in Doha, Qatar and overnights in Mumbai, Abu Dhabi, Muscat, Dubai and Ashdod;
A varied North American selection in Alaska, New England and Canada, affording convenient domestic air travel and fascinating maiden calls in Rockland, Maine, Trois-Rivières, Québec, and Bimini, Bahamas;
Luxury African safaris on an itinerary that explores the Indian Ocean isles;
Boutique, specialized itineraries exploring the North Cape, Amazon, Persian Gulf and Red Sea.
2019 – 65 total voyages
A World Cruise aboard Crystal Serenity that follows a tropical route from Hawaii and Australia to the wilds of Africa and on to the glamour of Monte Carlo;
An expanded Mediterranean season from April through October, maximizing the choices in the European summer playground;
New Far East routes through Vietnam, Thailand, Cambodia and China;
A fascinating itinerary exploring Japan, then to Petropavlovsk, Russia and crossing the International Dateline en route to Alaska;
Warm-weather sojourns along the North American Gulf Coast and South America that overnight in lively hubs like New Orleans, Rio de Janeiro and Buenos Aires;
Remote, less-visited sites, like Siberia's Kamchatka Peninsula and the Cook Islands' Aitutaki Island;
Monumental itineraries featuring a focus on cultural powerhouse sites, including a full three-day stay in UNESCO-listed Bordeaux.
Crystal's collection of more than 2,000 Crystal Adventures ashore is also outlined in the atlas. Options to suit virtually any type of traveler with any interests range from VIP, interactive culinary pursuits to high-adrenaline active adventures. The focus is sharply on offering guests authentic experiences that showcase the destinations in ways that are most meaningful to them, with complimentary voluntourism options enabling guests to contribute a helping hand in select locales; Overland Adventures whisking them away at one port to inland marvels like Machu Picchu, Angkor Wat and Victoria Falls; private services, offering curated opportunities to explore destinations independently; and Boutique Adventures, enriching experiences available only to Crystal guests.
In addition to the vast destination resources, the Worldwide Atlas includes details of what travelers can expect on board during their journeys. Recent enhancements made aboard Crystal Symphony during her stunning redesign will also debut aboard Crystal Serenity in November of 2018 including expanded specialty dining options, an open-seating dining concept, cutting-edge technological upgrades, and more of the spacious, butler-serviced Penthouse accommodations. Information about public spaces like the Crystal Life Spa and Salon, Fitness Centre, Crystal Visions® enrichment series, and much more. Those interested in voyages aboard Crystal River Cruises and Crystal Yacht Expedition Cruises can also find information on the global journeys offered with each experience in the atlas.
By sea, river, land or air, Crystal is redefining the way the world views luxury travel. The world-renowned Crystal Experience – featuring global journeys with Crystal Cruises, Crystal River Cruises, Crystal Yacht Expedition Cruises, Crystal AirCruises and Crystal Luxury Air – continues to entice the world's most discerning travelers with incomparable luxury and unparalleled personal service. Crystal will expand its fleet with the upcoming Crystal Debussy and Crystal Ravel river ships, the Crystal Endeavor expedition yacht and an entirely new class of ocean ships over the next five years.