The world's first dedicated biofuel flight between the United States and Australia, QF96 from Los Angeles to Melbourne, is set to depart later today.
The historic trans-Pacific 15 hour flight will operate with approximately 24,000kg of blended biofuel, saving 18,000kg in carbon emissions.
Qantas will use biofuel processed from Brassica Carinata, a non-food, industrial type of mustard seed, developed by Canadian-based agricultural-technology company, Agrisoma Biosciences (Agrisoma).
The flight is part of the partnership announced in 2017 which will also see the companies work with Australian farmers to grow the country's first commercial aviation biofuel seed crop by 2020.
Qantas International CEO Alison Webster said it was fitting that the airline's game-changing Dreamliner 787-9 will showcase the future of sustainable aviation.
Across its lifecycle, using Carinata-derived biofuel can reduce carbon emissions by eighty percent compared to traditional jet fuel.
The ten percent biofuel blend used on today's flight will therefore see a seven percent reduction in emissions on this route compared to normal operations.
Carinita requires no specialised production or processing techniques. It is water efficient and The University of Queensland field trials in Gatton, Queensland, and in Bordertown, South Australia, have demonstrated it should do very well in the Australian climate.
It is sown in either fallow areas where food crops fail or in between regular crop cycles, known as "cover cropping". Rotational or break-crops can improve soil quality, reduce erosion for food crops and provide farmers with additional income.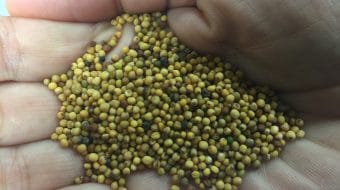 Agrisoma CEO, Steve Fabijanski, said biofuel produced from Carinata provides wide ranging benefits.
"Biojet fuel made from Carinata delivers both oil for biofuel and protein for animal nutrition while also enhancing the soil its grown in.
"We are excited about the potential of the crop in Australia and look forward to working with local farmers and Qantas to develop a clean energy source for the local aviation industry."
Qantas' first trans-Pacific biofuel flight was made possible with the support of AltAir Fuels and World Fuel Services.
QF96 will depart LAX on Sunday, 28th January and arrive in Melbourne on 30th January (local time).