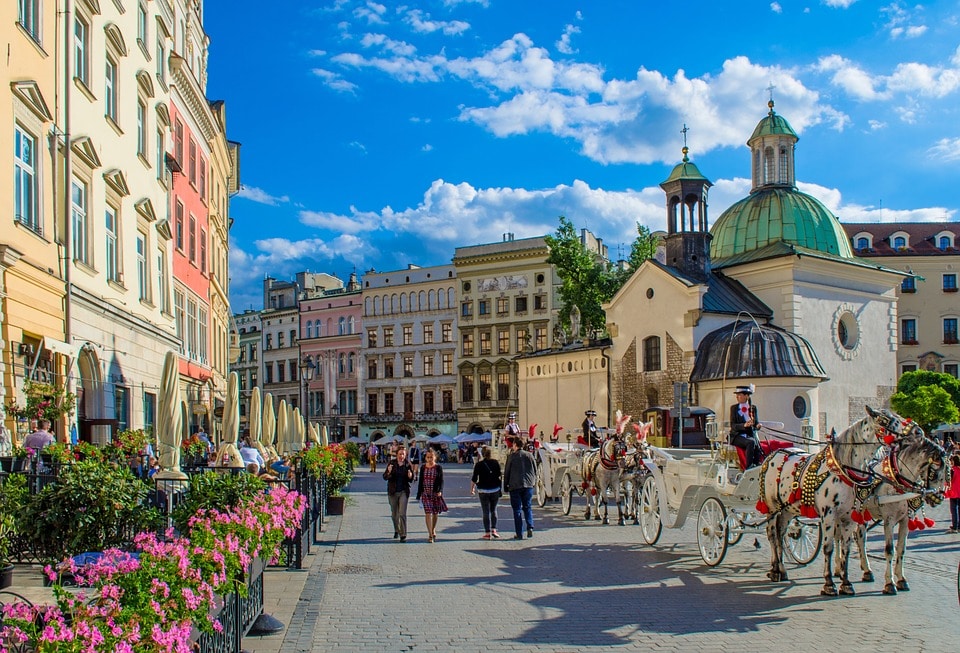 The report, based on millions of searches conducted on KAYAK.co.uk in 2017, reveals which destinations saw demand increase and decrease the most, and which saw flight prices rise and fall, amongst the top 100 flight destinations for British travellers.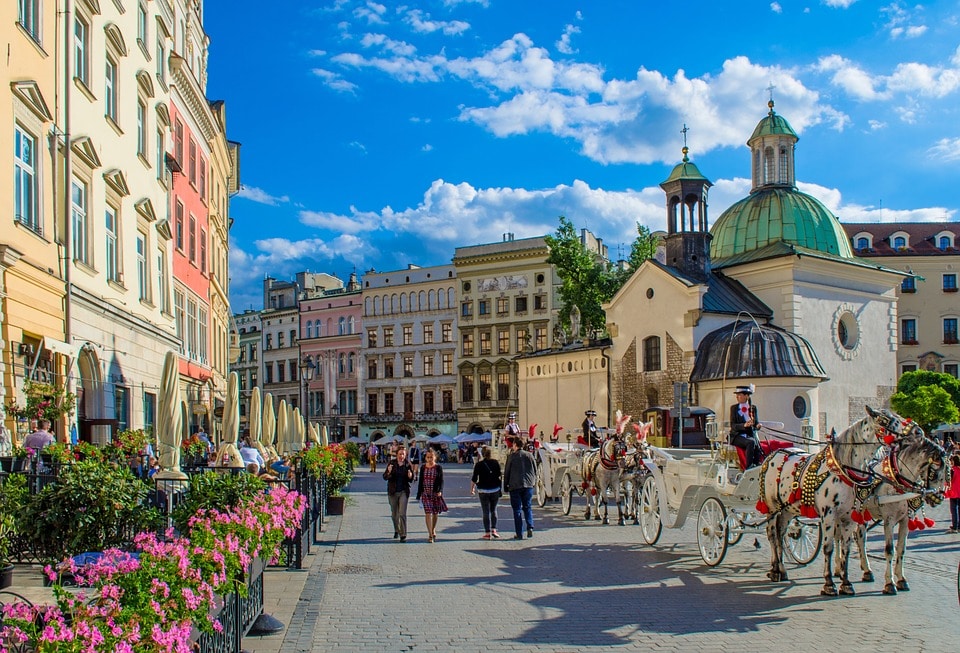 Gibraltar is the European destination which saw its popularity increase the most amongst Brits this year – with demand for flights to the British Overseas Territory increasing by a huge 56% in 2017, compared to the year before, according to KAYAK.co.uk's Annual Flights Index report. The increase in popularity is likely down to the destination being heavily featured in UK media in 2017.
Gibraltar is joined by two French cities – Toulouse and Paris – in the top three European destinations, whose popularity has increased by 46% and 36% respectively in 2017. Toulouse's popularity could possibly be explained by a huge price drop, with flight costs falling on average by half (49%) compared to the previous year.
At the other end of the scale, Copenhagen has fallen out of favour the most with Brits in 2017, with demand for flights down a massive 38% – which could be largely explained by a huge increase in flight prices to the Danish capital, which are up a whopping 63% – more than any other destination. It is likely Copenhagen has also suffered from competition from other nearby Scandinavian destinations this year.

The global picture
Looking internationally at destinations outside of Europe, the Texan city of Houston has seen its popularity rocket the most in 2017, with demand up 46%. This is perhaps most interesting as it bucks the trend of other US destinations, which are down in popularity almost across the board (see table below). For example, looking at traditionally popular destinations, San Francisco is down 12%, Orlando is down 11%, and Las Vegas is down 10% – a downward trend for the US which was also noted last year and shows little sign of turning around for now.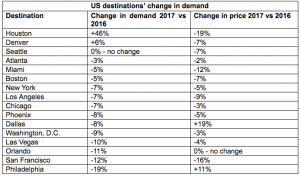 Houston is followed by Punta Cana in the Dominican Republic (up 44%), Manila (up 32%), Delhi (up 21%), and Casablanca (19%) as the global destinations whose popularity has increased the most.
When looking at the five global destinations whose popularity has fallen the most, the standout names are Dubai and Hong Kong. Demand for Dubai in 2017 was down a huge 24% whilst demand for Hong Kong fell by 20%.
However, Male (Maldives) was the destination whose popularity fell the most, with demand down by nearly half (43%). This has coincided with flight prices rising by 33% to an average of £692. It appears this may have priced many travellers out of the exotic and far-flung destination.

Australia on the rise
It has been a strong year for Australia when it comes to tourism demand. Brisbane has seen its popularity increase by a strong 18%, demand for Melbourne flights is up 12% and Perth is up 3%. All of these destinations have seen prices remain relatively steady from the year before.
Where have prices increased and fallen the most?
When it comes to prices, previously-mentioned Copenhagen has seen the biggest increase in prices in Europe in 2017 compared to the year before – rising by a massive 63% on average, way ahead of any other. Its nearest European contender for price increases is Corfu – which has seen prices rise 39%, followed by Zadar in Croatia (38%), Dublin (33%), and fashion capital Milan (26%).
But in addition to price rises, many destinations have seen massive price cuts, meaning those who got away to them in 2017 likely bagged themselves a great deal – and they are likely to remain well-priced into 2018. Toulouse in France had the biggest price decreases of 2017, with flight costs down by nearly half (49%), followed by Hamburg (down 40%). This was followed by traditionally expensive Ibiza – which saw flight prices fall 30% in 2017 to an average of £89 – from an average of £127 in 2016.
When it comes to global prices, Male's 33% price increase is followed by Osaka in Japan (+22%) and Buenos Aires (+19%). Conversely, North America is responsible for all the top five biggest decreases in prices. Houston is down 19%, San Francisco is down 16%, Miami is down 12%, Vancouver is down 10%, and LA is down 9%. This is likely related to an ongoing fall in demand – with Houston again being the notable exception to this rule.
Most popular overall
Looking at absolute demand (total volume of searches) for all destinations (EU and worldwide combined) New York remains Brits' number one destination overall, despite a 9% decrease in popularity compared to last year. Amsterdam is second, up one place from last year; likewise Barcelona in third is up one place from last year. Bangkok comes in fourth – a fall of two places from last year, whilst Dubai – despite a big fall in demand compared to 2016 – remains fifth. The biggest jumper in terms of places overall is Bucharest, which has jumped 19 places to just edge into Brits' top 50 destinations, in 50th place.
Neil Cartwright, travel expert at KAYAK.co.uk says 'At KAYAK we love using our data to establish overarching travel trends amongst Brits, and comparing demand and pricing from this year to the year before has shown some very interesting results.
'A key trend is the continued decline in demand for travel to the USA – something we have been noticing since last year. However, it would seem that the USA's loss is Australia's gain, with demand to key cities in the country up. This would suggest that many Brits are choosing Australia over the States for their "big" long-haul annual holiday.
'Another trend is that Brits appear to have been chasing the value in 2017. A lot of the destinations which saw the biggest increases in demand also had some of the largest falls in price, and destinations whose price increased considerably saw demand tail off. This suggests Brits are becoming increasingly price-savvy and using tools such as KAYAK to bag themselves the best deal'.