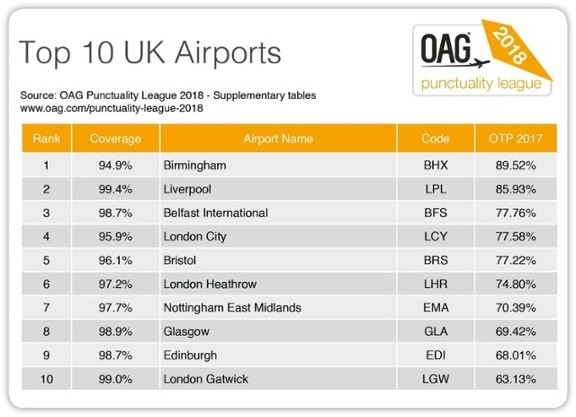 Birmingham Airport once again takes a top spot for on-time performance and London Heathrow shows strong on-time performance in new 'Mega' airport category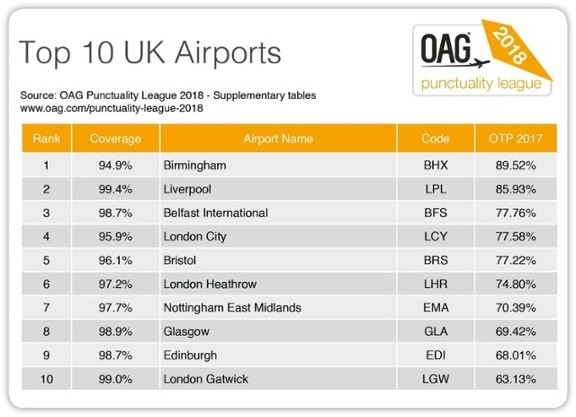 Moving from airlines to airports and further highlighting the UK's strength, Birmingham Airport ranked first in the Medium airports category for the second year, with an OTP of 90 per cent. In addition, Liverpool ranked 7th in the Small airport category, charting 86 per cent OTP. London's busiest airport, Heathrow, ranked 10th worldwide in the new Mega category, showcasing airports with 30 million or more departing seats. Heathrow ranked 6th amongst UK airports, with an OTP of 75 per cent.
Grant commented: "The success of Birmingham and Liverpool, is an example of how the UK's regional airports have created world-class facilities and networks that both connect their regional communities to the world, and provide valuable economic growth. As one of the busiest airports in the world and one of only a few of their peers to improve OTP versus a year ago, Heathrow's appearance in the top 10 for punctuality demonstrates the airport's commitment to continuing to provide a timely service to passengers."
Finally, this year's report sees the introduction of the top 20 busiest international routes and explores the punctuality of the airlines that operate those routes. London Heathrow is included in four routes and resident carrier BA records an average OTP of 75 per cent across the following key routes – Dublin to London Heathrow, London Heathrow to New York JFK, Amsterdam Schiphol to London Heathrow and Frankfurt to London Heathrow. Despite the good OTP, other carriers are more punctual on these routes, with London Heathrow only taking the top spot on the Frankfurt route.
"Routes such as Heathrow to JFK are very competitive," says Grant. "Although transatlantic, the in-air travel time and the number of carriers operating flights for this route means that BA needs to replicate success with other routes to increase OTP from its hub both to and from this popular destination."
The OAG Punctuality League 2018 is based on approximately 57 million flight records using full-year data from 2017.