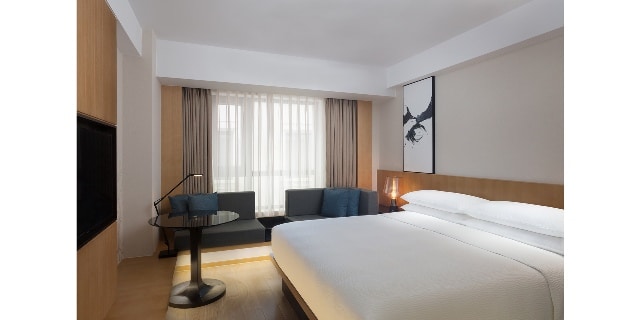 Fairfield by Marriott Shanghai Jingan China
Marriott International has announced the opening of Fairfield by Marriott Shanghai Jing'an. Owned and managed by New Development Group Co, Ltd., the hotel is located in the Jing'an District of Shanghai, close to the commercial and business hub of the cosmopolitan city.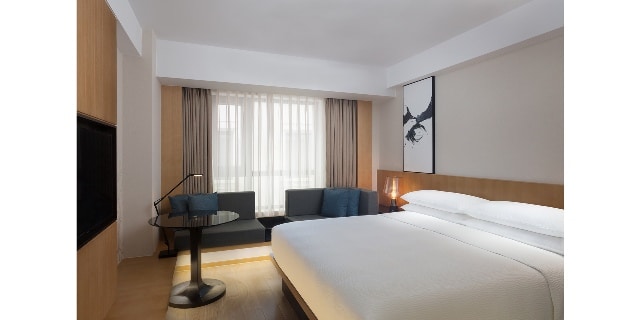 Located only 9 miles from Shanghai Hongqiao Airport, 20 miles from Shanghai Pudong International Airport and a 15-minute drive to downtown, Fairfield by Marriott Shanghai Jing'an offers guests easy access in and out of the city. Within the vicinity of the hotel, guests can also conveniently access a variety of popular destinations such as the Shanghai Circus World, Da Ning International Plaza, Lingshi Park and Shibei Hi-teck Park.
Fairfield by Marriott Shanghai Jing'an features a spacious, modern lobby filled with natural light. All 195 guestrooms offer smart contemporary designs, and are equipped with LED TVs, high speed Wi-Fi and comfortable furniture to fulfill different needs of guests. Each room also includes a well-designed work area with adjustable lighting, task lights, an ergonomic chair and multiple electrical outlets to facilitate the needs of today's guests. With a curved, mobile desk, guests can arrange their own workspace according to their habits.
Guests can enjoy a complimentary healthy breakfast with a wide selection of oatmeal, scrambled eggs, sausage, make-your-own waffles and other healthy choices, such as fruit, yogurt, and whole grain cereals and breads. Guests can also purchase snacks and refreshments from the all-day self-service "24/7 Market" for easy meals on-the-go. The hotel's 24-hour gym also allows guests to maintain their exercise routine even while traveling.
With 1,250 square feet of flexible multi-functional meeting space, Fairfield by Marriott Shanghai Jing'an can also cater to various meeting and event needs.