Setting an elevated standard of hospitality for nature lovers and outdoor adventurers alike, Tapestry Collection by Hilton has added Tailwater Lodge Altmarto Hilton's newest collection brand, providing rustic charm and comfort to travelers visiting the quaint New York town. Tailwater Lodge Altmar joins Tapestry Collection by Hilton's growing portfolio of unique upscale hotels, offering guests an independent hotel stay experience supported by Hilton and its award-winning Hilton Honors program.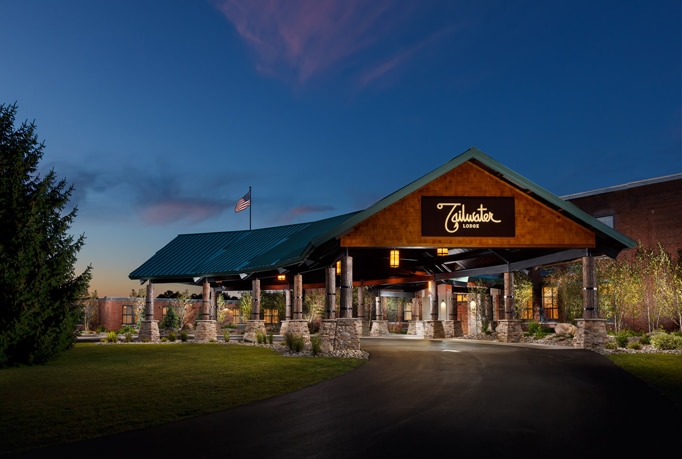 "With its idyllic natural environment and inviting community, Tailwater Lodge reflects the independent spirit and vibrant hotel character that our collection embodies," said Jenna Hackett, global head, Tapestry Collection by Hilton. "This upscale outdoor escape is a strong addition to our portfolio, representing the region's welcoming spirit and offering travelers another distinctive Tapestry Collection hotel in the upstate New York region."
Altmar, New York is a charming, rustic town only 38 miles from downtown Syracuse. Known for its Salmon and Steelhead fishing, Tailwater Lodge is an Orvis-endorsed lodge specializing in fly fishing where guests can try their hand at landing some of the largest freshwater game fish in the world. The winter months lead to heavy snowfalls resulting in prime conditions for cross-country skiing, snowshoeing, snowmobiling and fishing.
Originally, the Tailwater Lodge Altmar property was home to the two-story Altmar Elementary School and has since been converted to an outdoor oasis offering lodge-style guest rooms, which embrace the earth toned colors of the environment. Guests can enjoy a memorable meal at The Tailwater Bar & Restaurant, which serves comfort food with a contemporary twist. The on-property bar, The Tasting Room, offers a sampling of New York state and beyond with 24 beers on tap, an extensive wine list and spirits. The hotel also offers a spectacular event space, The Barn, which can host up to 450 guests and features breathtaking design elements including a ceiling made of rough-hewn beams.
"We are very proud of Tailwater Lodge and proud to be a part of the Altmar community. We look forward to continue contributing to the rich culture of the area by providing top-notch guest experiences, attentive service and hosting memorable gatherings that bring locals, friends, family and co-workers together," said Robert Bijesse, hotel manager, Tailwater Lodge and Woodbine Hospitality. "Backed by the strength of Hilton and the success of Woodbine's first Tapestry Collection property in Syracuse, Hotel Skyler, we are confident that Tailwater Lodge is further positioned to provide guests with exceptional experiences and unparalleled hospitality."
By the end of 2018, the lodge will add additional guestrooms, a fitness center, an indoor pool and other leisure amenities for visitors. Tailwater Lodge will remain open during enhancements to the property, offering guests the same level of excellence in quality and experience.
In May, Tapestry Collection by Hilton debuted a partnership with Youth Service America to support young people through the #LeadASAP Tapestry Collection Spark the Arts Campaign, which activates youth to use their "spark" for the arts to improve their communities. The grants are awarded in or around Tapestry Collection hotel locations, and all projects should fall into the categories of either Awareness, Service, Advocacy or Philanthropy (ASAP). To celebrate the addition of Tailwater Lodge to the collection, the grant application for youth ages 12-25 in the Altmar-area is now open. Those interested can visit www.ysa.org/tailwater for more information and to submit their application.
Tailwater Lodge Altmar, Tapestry Collection by Hilton is part of Hilton Honors, the award-winning guest-loyalty program for Hilton's 14 distinct hotel brands. Members who book directly have access to instant benefits, including a flexible payment slider that allows members to choose nearly any combination of Points and money to book a stay, an exclusive member discount, free standard Wi-Fi, access to the Hilton Honors mobile app and to unique events through the Hilton Honors auction platform, such as exclusive artist experiences and hotel concert events with Live Nation®, or race experiences with the McLaren-Honda Formula 1 team.