Luxury cruise line Cunard and 20th Century Fox Film partnered to host the world premiere of "The Greatest Showman" on the greatest ocean liner, Queen Mary 2, while the ship was docked in New York today. This was the first time a Hollywood movie premiere took place on a passenger ship.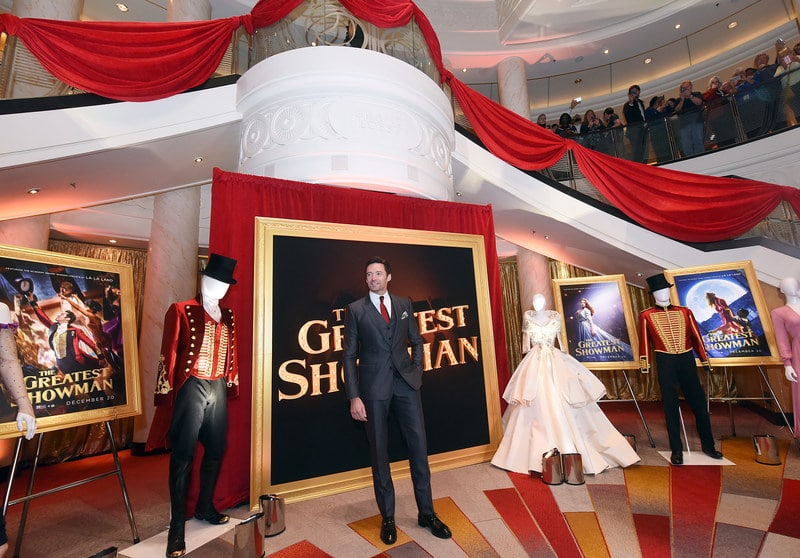 Debuting in theaters on December 20, "The Greatest Showman" is a bold and original musical that celebrates the birth of show business and the sense of wonder we feel when dreams come to life. Inspired by the ambition and imagination of P.T. Barnum, "The Greatest Showman" tells the story of a visionary who rose from nothing to create a mesmerizing spectacle that became a worldwide sensation. "The Greatest Showman" is directed by exciting new filmmaker, Michael Gracey, with songs by Academy Award® winners Benj Pasek and Justin Paul ("La La Land") and starring Academy Award® nominee Hugh Jackman. Jackman is joined by Academy Award® nominee Michelle Williams, Zendaya, Zac Efron and Rebecca Ferguson.
During his life, P.T. Barnum sailed multiple times on various Cunard ships to cross the Atlantic between New York and England. Scenes from the movie were shot in the original U.S. headquarters of Cunard, a magnificent Italian Renaissance-style landmark building located at 25 Broadway in lower Manhattan. In addition, many scenes were shot in Brooklyn, Queen Mary 2's U.S. homeport.
Cruise industry executives including Carnival Corp CEO Arnold Donald, Carnival UK CEO Stein Kruse, Carnival UK President Josh Weinstein, Cunard Senior Vice President Simon Palethorpe and Cunard Senior Vice President Josh Leibowitz were on hand at the premiere to mingle with event guests such as 20th Century Fox Film's Chairman and CEO Stacey Snider and other Hollywood insiders.
"The world premiere event of 'The Greatest Showman' on Queen Mary 2 tonight epitomizes the glamour and excitement that defines Cunard," said Josh Leibowitz, Senior Vice President, Cunard North America. "We are thrilled to host the first major motion picture premiere on a Cunard ship and would welcome the opportunity to partner with 20th Century Fox again on future endeavours."
"The Greatest Showman's" Emmy Award®-winning costume designer Ellen Mirojnick remained on board to sail on the Transatlantic Crossing to England immediately following the premiere, offering talks on her career and showcasing her designs from the movie while mingling with guests.