Abu Dhabi's Department of Culture and Tourism has announced that it has acquired Leonardo da Vinci's masterpiece Salvator Mundi. The work, hailed as one of the greatest artistic rediscoveries of the last 100 years, will go on display at Louvre Abu Dhabi, alongside another da Vinci masterpiece, La Belle Ferronnière, which is currently on loan from musée du Louvre.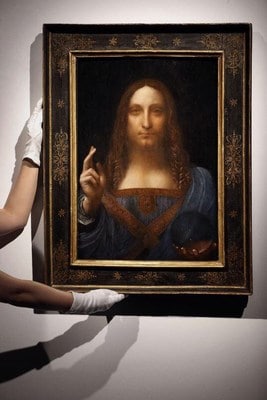 Painted by one of history's greatest and most renowned artists, Salvator Mundi is one of fewer than 20 known surviving paintings by the Italian Renaissance master. Dating from around 1500, it is an oil on panel painting depicting a half-length figure of Christ as Saviour of the World, facing the viewer, and dressed in flowing robes of lapis and crimson. The figure holds a crystal orb in his left hand as he raises his right hand in benediction.
The museum is also preparing to open its inaugural special exhibition, From One Louvre to Another: Opening a Museum for Everyone, on 21 December 2017. It traces the history of musée du Louvre in Paris in the 18th century. Divided into three sections, the exhibition will look at the royal collections at Versailles under King Louis XIV; the residency of the Academy and Salons in the Louvre, converted into a palace for artists; and the eventual creation of the musée du Louvre. The exhibition will feature approximately 150 significant paintings, sculptures, decorative arts and other pieces, mainly from the collections of musée du Louvre, but also from the Château de Versailles.
Louvre Abu Dhabi includes 6,000 square metres of galleries, exhibitions, a Children's Museum for visitors aged 6 to 12, a research centre, a restaurant, a boutique and a café. Architect Jean Nouvel's 'museum city' (Arab madina) under a 180-metre dome, comprised of almost 8,000 unique metal stars set in a complex geometric pattern. They can walk its promenades overlooking the sea beneath the dome as the sunlight filters through, creating a moving 'rain of light', reminiscent of the overlapping palm trees in the UAE's oases and traditional souqs.