With the opening of the Bayern Welcome Lounge, travellers arriving in Munich from all over the world and those meeting them at the airport now have a pleasant place to meet. The lounge, operated by BAYERN TOURISMUS Marketing GmbH (by.TM), the official marketing organization for the Bavarian tourism industry, offers them a spot to relax in contemporary, Bavarian-themed surroundings. It is situated in the public area of Terminal 2, immediately after the exit from the baggage claim.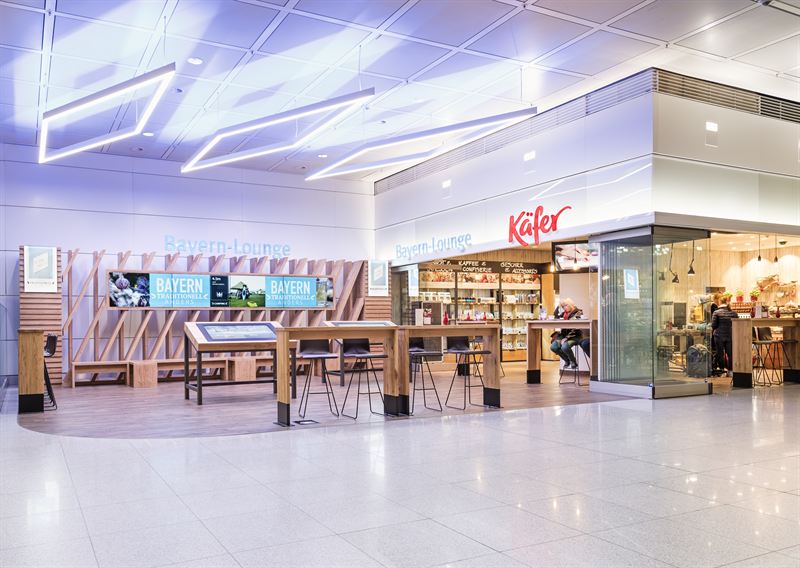 Designed as a multimedia experience, the lounge presents visitors with enjoyable infotainment and travel inspirations covering every aspect of Bavaria, Germany's most popular state for tourism. The concept utilizes interactive touchscreens, 360° video projections and a large media wall. Dr. Michael Kerkloh, the President and CEO of Munich Airport, was delighted with his first impression: "This gives our guests a virtual foretaste of what awaits them in our many-faceted region right after landing here."
With direct access from the lounge to the new Käfer Bistro, guests will not go hungry or thirsty. "Innovation, digitalization and hospitality – that's what we stand for. And that's the concept that our new Bayern Welcome Lounge communicates. Right after arriving, you can gain a sense of the Bavarian spirit and pick up plenty of ideas for activities and destinations in Bavaria," explains Jens Huwald, the managing director of by.TM.
The new Bayern Welcome Lounge is a perfect location for international travellers and organized tours to meet and assemble on arrival in Munich.