Alitalia's onboard dining is the best in the world, according to more than 22,000 frequent flyers surveyed by the US publication 'Global Traveler' which awarded the Italian airline "Best Airline Cuisine" 2017.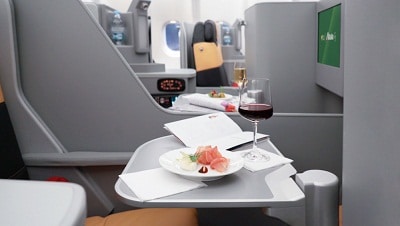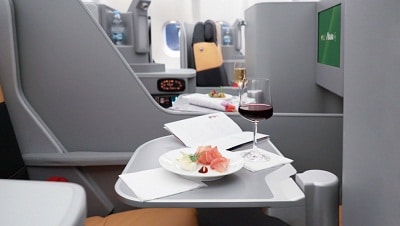 Once again, Alitalia has received the authoritative recognition by passengers who wanted to show appreciation, for the 8th year, for its onboard dining program, its selection of quality wines and the airline's commitment to create a menu that is a true expression of the best Italian tradition of food and wine.
"We're honoured to be granted this award yet again and it's hugely gratifying for Alitalia to see how much our passengers appreciate the Italian cuisine we have on board our flights, famous throughout the world for the quality and variety of its recipes inspired by the different Italian regions", said Fabio Maria Lazzerini Chief Commercial Officer of Alitalia.
"We have the Magnifica Class onboard, a cabin that is unique in the long-haul market, a distinguished and made in Italy service offered in cooperation with excellent partners such as Lavazza and the Ferrari wineries. In general, our aim is to work with successful Italian brands to leverage what our country has to offer and our capabilities as the national carrier" added Mr. Lazzerini. "Our cabin crew are trained to be ambassadors of Italian excellence serving gourmet dishes accompanied by the best Italian wines".
Alitalia introduced in Magnifica class the 'Dine Anytime' service which allows our customers to decide when they want to eat fine-dining meals including "Typical Pizzoccheri pasta from Valtellina'' and "Milanese style veal chop", typical receipes from Piemonte region; or "Traditional orecchiette pasta with turnip tops", "Bari style veal cutlet", typical dishes from Apulia Region.
The excellent Italian food is accompanied by a wide range of the best Italian wines carefully selected by Alitalia.