This week, one of Norway's most iconic hotels, the Radisson Blu Atlantic Hotel, Stavanger, reopened its doors after more than a year of renovations at a value of NOK 465 million. The General Manager is delighted to welcome the guests back, and is confident the 'new' hotel will contribute positively to the entire region.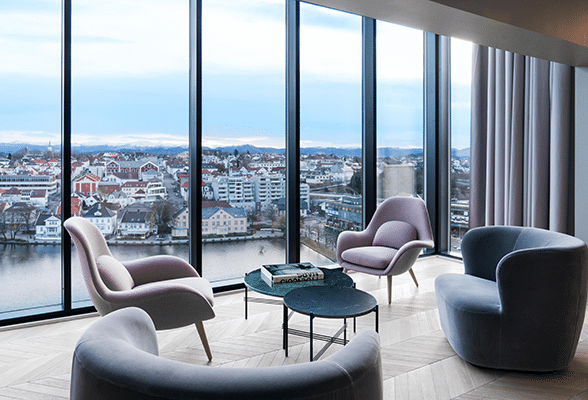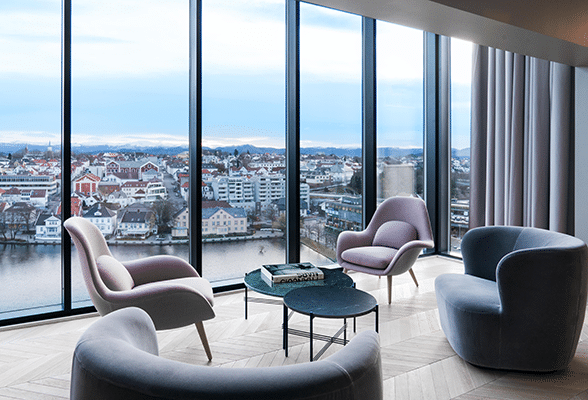 Rezidor Hotel Group and KLP have invested NOK 465 million in the renovation of this landmark hotel, and the ambitions are sky high.
To ensure that the guests get the best experiences possible, the hotel has undergone an extensive renovation covering all parts of the hotel. Now, the hotel has a brand-new reception, while the guest rooms, the 15 meeting rooms (with a total capacity of more than 2000 visitors) and public areas are newly renovated and ready to welcome the guests. The new lobby appears as an art piece in itself, and is the perfect venue for exhibitions, festive events and cultural occasions. In January 2018, the brand-new restaurant will also open, with the award-winning international 'FireLake' concept.
Will contribute to the entire region
The renovation of Radisson Blu Atlantic Hotel, Stavanger, is a collaboration between Rezidor Hotel Group and KLP. Rezidor has invested approx. NOK 165 million and KLP, through its property company, NOK 300 million.
The renovation of the Radisson Blu Atlantic Hotel is part of Rezidor Hotel Group's most extensive renovation process in the Nordic region ever. Within a few years, the hotel group will have invested EUR 110 million in the renovations of several Radisson Blu and Park Inn by Radisson hotels in the area. In addition, the property owners are also investing considerable amounts in the renovation projects.
Designed by Stavanger Architects
The Stavanger-based design company LINK Architecture is responsible for the design of the new Radisson Blu Atlantic Hotel, Stavanger.
To enhance the guest experience, the designs of all 365 guest rooms are inspired by the rich history and soul of the hotel and Stavanger city.
LINK Architecture explains that it has been important that the exterior and the interior interact and enhance each other. The materials and design expressions are aligned and form a whole, from the second the guest sees the facade, enters the building and experiences the hotel.
Just a short walk away from Radisson Blu Atlantic Hotel, Stavanger, guests will also find its sister hotel Radisson Blu Royal Hotel, Stavanger. This hotel has 215 inviting guest rooms and four modern meeting spaces. Radisson Blu Royal Hotel is also home to the successful 26 North Restaurant & Social Club, which guests have ranked on TripAdvisor as the best restaurant in Stavanger.