The Malaysia International Trade and Exhibition Centre will be making its first appearance at the IBTM World 2017 (The Global Meetings & Events Expo) to reach out to international meeting planners in a move to build awareness and promote the venue for large-scale exhibitions and events.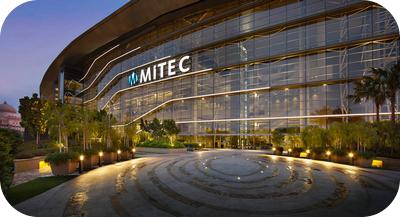 Situated in the heart of Naza TTDI's ongoing landmark development, KL Metropolis, the Malaysia's largest exhibition space is setting a new benchmark for exhibition industry in the country and poised to be the first exhibition venue of choice in the Southeast Asia region.
The MITEC is a magnificent showpiece that boasts state-of-the-art facilities and capable of hosting heavy industries show and large-scale events, the first of its kind in the country.
Bestowed with expansive halls for events and stand-alone exhibitions of all shapes and sizes, it also has Malaysia's largest pillar-less exhibition hall within the three double-volume floor with a total gross exhibition area of over 45,000 sqm.
Since opening its doors in August 2017, MITEC hosted a few major events including the 29th SEA Games and 9th ASEAN Para Games. The venue's outlook for the year 2018 is positive with a number of high-profile events on its calendar such as MITA Travel Fair 2018; Malaysia International Furniture Fair; Malaysia International Halal Fair; Defence Services Asia; SEMICON Asia and Malaysia Obstetrics and Gynecology Congress.
These exclude the shorter lead time events with elements of conferencing, meeting, banqueting, sports and entertainment segments of the business.
MITEC connects you with everything you need for your event with its flexible halls, providing an unprecedented choice, whilst its incredible space is designed to support heavy machinery up to 50KN/sqm. With high ceiling height, the exhibition halls are expandable to 180 metres in length and 72 metres in width, and each one possesses its own direct service access ramp. In short, the venue was built ready to tackle most events that come its way.
Amenities such as VIP suites and lounges, food & beverage outlets and convenience stores, as well as cutting-edge technology behind the scenes and in plain sight (the unmissable 15-metre-tall escalators, one of Malaysia's longest escalator for example) help sweeten the MITEC experience, making it the more popular new kid on the block.