Michelin today released the newest edition of the Washington, D.C. 2018, and adds two more star selections to the nation's capital.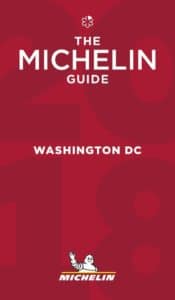 Michelin inspectors, who have been dining anonymously around Washington, D.C., for the last two years, have recognized Komi and Metier for the first time. Both restaurants were of great interest to the inspection team in the inaugural edition of the Guide last year.
Komi, led by locally beloved chef Johnny Monis, earns its first star for a Mediterranean tasting menu that offers diners a variety of small bites, house-made pasta, and roasted meat, often goat. In addition to the top notch cuisine, this spot also provides an exciting wine selection and excellent wine service.
Métier, owned by the ambitious and creative chef Eric Ziebold and partner Célia Laurent, features menu items that have been locally sourced and décor items from the owners' personal collections. Downstairs from Metier is Kinship, which was awarded one Michelin star in the premier edition of the Guide.
The restaurants of well-respected chefs Patrick O'Connell (Inn at Little Washington), José Andrés (minibar) and Aaron Silverman (Pineapple and Pearls) have maintained their two-star status in the second edition. The two-star distinction recognizes restaurants that signify to travelers a destination that is worth a detour.
Also of note are the talented teams at The Dabney, Fiola, Tail Up Goat and the nine total restaurants that maintained their remarkable one-star status from the inaugural edition.
The 2018 Bib Gourmands were announced last week for D.C. The Bib Gourmands are awarded to restaurants that earn the attention of Michelin inspectors and are personal favorites, offering great quality food at good prices.
Additionally, the 2018 MICHELIN Guide Washington, D.C., recognizes more than 70 restaurants with the Plate symbol, a designation given to restaurants that inspectors recognize as having potential and are recommended to travelers and locals for quality food. The MICHELIN Guide is a selection of restaurants and not just a mere listing of restaurants.
More than 33 styles of cuisines appear in the Guide. Diners can find recommendations for establishments with notable wine, beer, sake and cocktail lists, as well as menus on which average prices are $25 and under.
The 2018 selection includes:
Three restaurants with two stars
11 restaurants with one star
22 restaurants with a Bib Gourmand
The Guide will go on sale Friday, Oct. 20, 2017, at major book sellers for a suggested retail price of $12.95.