Four Seasons Resort Marrakech offers the astonishing and exclusive opportunity to its guests to step into the Villa Oasis, the private residence acquired by Yves Saint Laurent and his companion Pierre Bergé in 1980. This "Marrakech's best-kept secret" is the creative retreat where Yves Saint Laurent found his inspiration for several of his collections. The designer was deeply influenced by the Red City, its colours, patterns and culture.
Guests will be plunged right into the heart of the designer's universe as they enter in the Villa Oasis. They will be able to see firsthand his unshared and private collection of books, paintings and works of art, along with the splendid and intimate décor, letting them imagine how Yves Saint Laurent lived for years.
Following this unique visit, guests will be escorted to the Majorelle Garden, an enchanting place as tasteful as they would anticipate, filled with rare plants and the iconic blues and yellows that have become synonymous with Yves Saint Laurent's time in Marrakech.
The experience continues by a privately guided tour to the newly opened Yves Saint Laurent museum, where guests will be taken into two worlds dear to Yves Saint Laurent's heart: fashion and Morocco. This awe-inspiring museum exhibits a significant part of the Fondation Pierre Bergé-Yves Saint Laurent's collection, and is a legacy to Marrakech, a city that held such a crucial place in Yves Saint Laurent's life.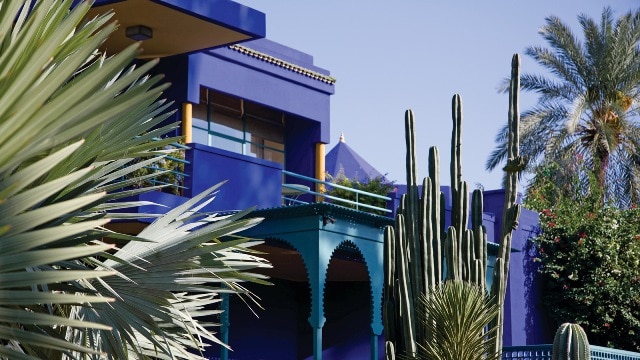 The ultimate step of this Extraordinary Experience comes upon guests' return to Four Seasons Resort Marrakech. Among the lush gardens and water features, guests will attend a personal and unique culinary moment. Executive Chef Thierry Papillier will concoct them a sur mesure menu inspired by the colours, textures and shapes embodied in Yves Saint Laurent's designs, accompanied by a carefully curated selection of Moroccan wines.