Hilton today announced the opening of its newest hotel, the dual-branded Homewood Suites by Hilton Los Angeles International Airport and H Hotel Los Angeles, Curio Collection by Hilton. The property is the first hotel in Los Angeles for both brands, Homewood Suites' fourth in Los Angeles County. The opening also adds to the growing number of multi-brand hotels Hilton currently has open or in the pipeline throughout the U.S., Canada, Mexico, South America, Europe and the Middle East to better serve both travelers and developers.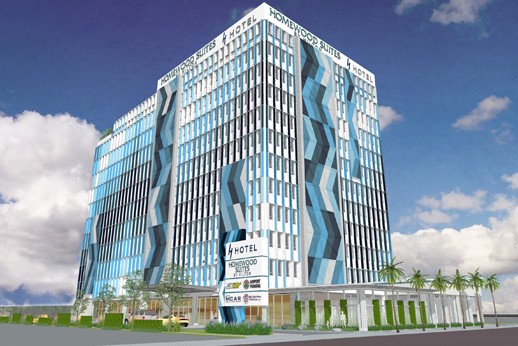 "We are pleased to expand our Los Angeles-area footprint with the opening of this dual-branded hotel," said Adrian Kurre, global head of Homewood Suites by Hilton. "Moreover, with its proximity to Los Angeles Airport, business and leisure travelers from across the globe will have the opportunity to experience Homewood Suites' unique value-driven all suites offering."
Developed and owned by SVI Airport, LLC and managed by Interstate Hotels & Resorts, the property is located at 6151 West Century Blvd, less than a mile from LAX. The hotel offers guests convenient access to Venice Beach, Santa Monica and Los Angeles' main attractions, such as the J. Paul Getty Museum, Hollywood Boulevard and Beverly Hills. The property helps guests get around town by offering a complimentary 24-hour airport shuttle service as well as car rentals from MCar Rental.
The dual-brand concept creates larger and enhanced communal areas and amenities than what would be standard at a standalone property, benefiting both business and leisure travelers. The hotel has a mix of unique offerings – each catering to the needs of their respective guests – including two distinct 24-hour fitness centers, a shared outdoor pool. The hotel also offers 1,800 square feet of flexible meeting space.
H Hotel Los Angeles will provide high-end accommodations that currently do not exist at LAX Airport. Guests are greeted in the lobby by eight pieces of art that were specifically commissioned for the hotel, as well as guest room amenities not found elsewhere at the airport, including Nespresso machines, Temple Spa bath amenities, and Google Chromecast on every TV.
"Los Angeles' tourism has seen consistent growth, and with last year's record-breaking numbers***, Hilton could not open this dual-brand hotel at a better time," added Bill Duncan, global head of the All Suites brands by Hilton. "Homewood Suites has been a part of the Hilton multi-brand strategy since the very beginning, and we're thrilled to continue that success with this innovative full-service and All Suites lodging option that appeals to guests with a wide variety of styles, travel needs and desired price points."
In addition, the property will have a variety of on-site dining options to appeal to all types of travelers:
Waypoint Kitchen, an American-style pub with modern California cuisine open from 6 a.m. to 10 a.m. for breakfast, and from 5 p.m. to 10 p.m. for dinner. The restaurant is the H Hotel's main restaurant and will welcome guests staying at either brand. Electronic restaurant ordering will be available.
Fast-casual options will also include a Coffee Bean & Tea Leaf and Subway Fresh in the lobby.
Curio Collection by Hilton, a global portfolio of +40 upper upscale, independent hotels and resorts, allows guests to discover destinations in a distinctive and memorable way. Inspired by the shape of an airport runaway, H Hotel provides travelers a unique home base to explore everything Los Angeles has to offer. With a rooftop patio overlooking the city and a variety of high-end amenities, guests can enjoy a remarkable, one-of-a-kind experience with close proximity to LAX.
Homewood Suites by Hilton offers a combination of studio and one-bedroom accommodations, featuring fully equipped kitchens and separate living and sleeping areas. Guests are also provided all the essentials needed for a comfortable and convenient stay such as complimentary daily full-hot breakfast, evening social Monday through Thursday, Wi-Fi, a 24-hour business center and an on-site convenience store and grocery shopping service****.