Following comprehensive consumer research, Red Roof has launched The Red Collection, the first soft brand in the company's 44-year history, with the opening of the first property, The St. Clair Hotel™ in Downtown Chicago. Red Roof's research found that today's upscale economy travelers are not looking for hotels that are identified as "trendy" or "hip"—which they equate with expensive and fleeting. Instead travelers are looking for modern, accessible and affordable properties with enhanced amenities in the hearts of cities they love, prime locations near the things they love to do. The Red Collection is a portfolio of upscale economy to midscale unique hotels that are hyper-local, drawing inspiration from the local vibe and culture of the city centers in which they are located.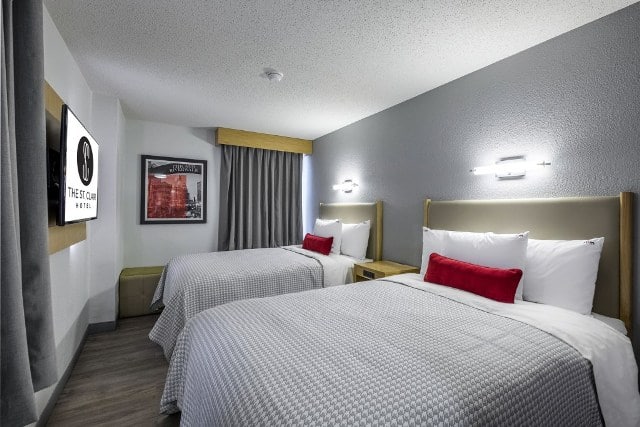 Red Roof's research found that the majority of guests in the upscale economy segment are willing to pay between an extra 10 and 50 dollars per stay for enhanced amenities and loyalty incentives. Additionally, the top three drivers of hotel consideration were affordable rates, proximity to local activities and attractions and free Wi-Fi. Consumers even cared more about those attributes than free breakfast. The Red Collection, and its first property, The St. Clair Hotel, is designed to meet those needs.
The Red Collection is also attractive to not only consumers but to franchisees as well. "The Red Collection gives existing and new franchisees an opportunity to diversify and invest in unique city hotels with the support of a strong, respected brand and management team," says Phil Hugh, Chief Development Officer, Red Roof. "Our new soft brand provides alternative business opportunities and additional avenues of growth in high demand locations."
Tentatively scheduled to open in 2018 at the corner of St. Clair and Ontario, The St. Clair Hotel is the first of many future properties in The Red Collection portfolio. On top of offering an authentic, hyper local experience in Chicago, one of the most popular travel destinations in the United States according to Red Roof's research, The St. Clair Hotel allows guests to stay in a modern hotel with décor and amenities they would expect from a major city hotel, but at an affordable rate. The vibe starts with a welcoming lobby, featuring plush high tops, outlets for multiple devices and network connectivity. Every room has silky, upgraded bedding, spa-inspired bathrooms with multi-flow showerheads and complimentary Seattle's Best Coffee.
The St. Clair Hotel will also uphold popular guest initiatives, including Fast. Free. Verified. Wi-Fi, a pet-friendly policy at no additional cost and participation in RediCard®, while offering guests an economic rate so they can save money for experiencing the shopping, dining and sightseeing of Chicago. The hotel sits just one block from the Magnificent Mile, Chicago's premier destination for shopping and dining. Guests will be just steps away from popular retailers, the historic Water Tower and the iconic Chicago River. Upcoming plans for The St. Clair Hotel include an enticing fine dining restaurant in the lobby to be announced, scheduled to open in the first quarter of 2018. Other cities being considered for The Red Collection are New York, Las Vegas, Charlotte and Austin.