The event, taking place from 12-16 November this year at the DWC, Dubai Airshow Site, traditionally attracts the leading aerospace companies from around the globe and this year looks set to be no exception. With an almost equal percentage of exhibitors from Europe to those from the Middle East, plus many from further afield, the Dubai Airshow will host representatives from the global aerospace industry.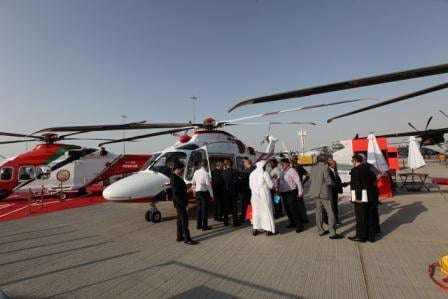 In addition, almost one-fifth of the exhibitors at the five day event will be travelling from the Americas with the majority of these hailing from the USA and Canada. Among these are several first-time exhibitors including PBS Aerospace from the USA and Vector Aerospace from Canada.
In fact, many of the shows new exhibitors this year come from around the globe including Lubair Aviation from Hong Kong, Taurus Systems from South Korea, Bertin Technologies from France and TBS from Bulgaria, plus plenty of new representatives from across the Middle East.
Dubai benefits from a geographical advantage, being situated within eight hours flight of two thirds of the world and has established itself as an aviation hub between east and west as a result of this. The Dubai Airshow has grown exponentially since its inception 30 years ago as the industry recognises the importance of the region.
The Dubai Airshow 2017 takes place 12-16 November 2017 at DWC, Dubai Airshow Site. The event is expecting over 1200 exhibitors and 72500 trade visitors across its five-day run.