Ahead of its first-ever World Cruise scheduled for this winter, Viking Cruises has announced Viking Sun® will continue to sail the globe on the company's second World Cruise, which will span 128-days, five continents, 21 countries and 44 ports, with 10 port overnights.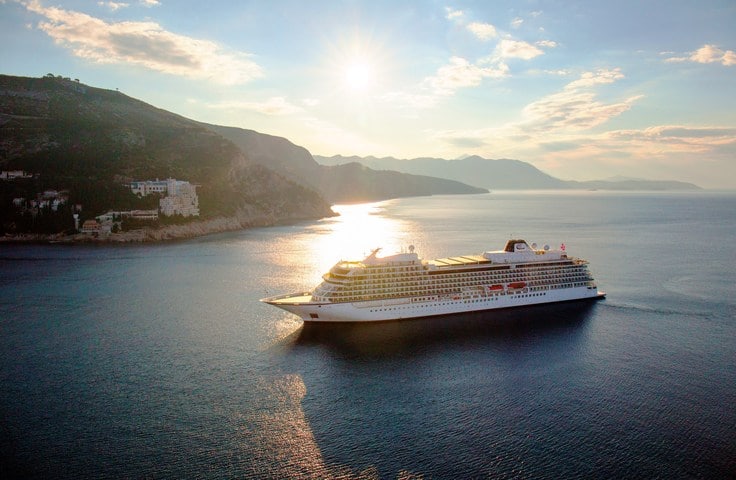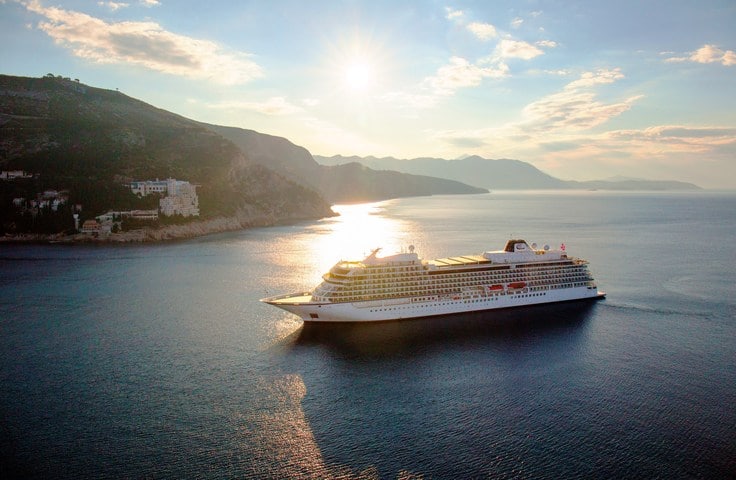 Departing on January 3, 2019 on the soon-to-be delivered fourth vessel in Viking's award-winning ocean fleet, this grand journey will mark Viking Sun's second voyage around the world. The ship will spend much of her maiden season on Viking's first World Cruise, which departs from Miami on December 15, 2017. Sailing from Miami to London, the new 2019 World Cruise itinerary allows guests to explore South America and the islands of the South Pacific; call upon ports in Africa, from Cape Town to Dakar; and cruise the Strait of Magellan, Tasman Sea, and Indian Ocean, before concluding in London. As with all Viking itineraries, guests receive a complimentary shore excursion in each of the 44 ports and free unlimited Wi-Fi; World Cruise guests also receive Business Class airfare and all gratuities and service fees, along with an extensive list of added-value included features in their cruise fare.
"We offer itineraries that are designed for explorers, and our World Cruises are the most extensive and culturally immersive journeys available in the industry. Our first World Cruise is 100 percent sold out, and we are pleased with the initial response to our second World Cruise itinerary among new and returning guests," said Torstein Hagen, Chairman of Viking Cruises. "Our guests are experienced travelers who want to explore the world in comfort. As we continue to expand our offerings around the world, we will remain true to our guests—with an award-winning fleet design, the highest industry accolades and far more included value than any competitor."
2019 World Cruise Highlights
Viking's 2019 World Cruise visits dozens of celebrated cities, charming ports and idyllic islands in one grand voyage. Guests will immerse themselves in the world's rich cultures during included excursions in each port, while The Viking Way of Exploration offers additional, optional excursions that provide unmatched insight into Local Life, Working World and Privileged Access visits to cultural institutions. Overnight stays in 10 cities allow World Cruise guests to delve deeper into destinations; and Viking's Culture Curriculum® offers additional enrichment on board with regional entertainment and lectures, as well as learning opportunities as part of the new Viking Resident Historian program. Full details on the 2019 World Cruise can be found on Viking's website here; highlights include:
Rio de Janeiro, Brazil: Peak of Brazilian Culture—During an overnight stay in the historic city of Rio de Janeiro, guests can visit Corcovado Mountain and the iconic Christ the Redeemer statue before relaxing on the scenic Copacabana and Ipanema beaches of the coastal metropolis.
Port Stanley, Falkland Islands: Islas Malvinas—This remote archipelago, also known as Islas Malvinas, is comprised of nearly 200 small islands and home to less than 4,000 people. Renowned for their maritime history, guests can learn the rich history of the Falkland Islands while visiting the capital, Port Stanley, and experience the abundant wildlife of the surrounding waters including penguins, dolphins, seals and orcas.
Ushuaia, Argentina: "End of the World"—Perched on a steep hill on the southernmost tip of South America, commonly referred to as the "End of the World," guests can explore the scenery of Ushuaia through excursions to the nearby Escondido and Fagnano Lakes, and the Tierra del Fuego National Park, which was first inhabited by humans 10,000 years ago.
Easter Island, Chile—Isolated in Mystery—Resting 1,200 miles from its nearest neighbors, Easter Island is the world's most remote inhabited island. Guests will visit the island's famed archaeological sites, including the nearly 900 monumental Moai stone head statues, part of the UNESCO World Heritage site of Rapa Nui National Park.
Milford Sound, New Zealand—Astonishing Landscape—Guests will have the opportunity to sail the breathtaking waterway of New Zealand's Fiordland National Park in Milford Sound. Stretching for almost 10 miles, from the Tasman Sea into a wonderland of alpine peaks, the landscape features monolithic granite walls and waterfalls as tall as skyscrapers.
Hobart, Tasmania—An Island of History and Wilderness—Capital of Australia's island state of Tasmania, Hobart sits nestled amongst the foothills of Mount Wellington and at the entrance to the Derwent River, and offers guests the chance to learn about its UNESCO World Heritage sites, including historic convict locations and a unique wilderness area.
Maputo, Mozambique: Wildlife Abounds—While visiting this Indian Ocean port, guests can experience the preserved Portuguese colonial architecture and local markets in this historic city, before venturing to Kruger National Park for an overnight safari and a chance to view the "Big 5:" lions, African elephants, African leopards, Cape buffalo and rhinoceros.
Cape Town, South Africa: Cultural Riches—An overnight stay in Cape Town helps guests explore this city in-depth. Guests can appreciate the picturesque landscape from the monolithic wonder, Table Mountain, enjoy an afternoon of wine tasting at the Vineyards of Stellenbosch, or stay in the city to witness an array of historic architecture and delicious cuisine.