INNSIDE by Meliá, the urban lifestyle hotel brand by Meliá Hotels international group, has announced the latest addition to its growing portfolio of global properties with the opening of INNSIDE Hamburg Hafen. INNSIDE by Meliá hotels are known for their strategic city locations and INNSIDE Hamburg Haffen is testimony to this with a prime position in the Hammerbrook district. Near the Hafencity quarter and with a dedicated pier on the Mittelkanal channel, the hotel is a short walk from the city center and the world renowned Speicherstadt district, making it the perfect choice for pleasure seekers as well as modern work trippers, who want to achieve more than just business when they travel, intent getting to know the cities they visit like a local. INNSIDE Hamburg Hafen's staff are all sharp city insiders, able to provide any visitor with local tips as to how to get the most out of their city stay, with advice on everything from where to go for a traditional Hamburgian dinner, to the best park for an evening run.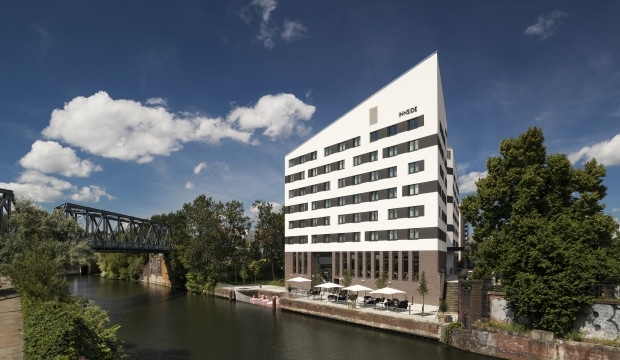 In keeping with the young, fresh and innovative design that characterises the INNSIDE by Meliá brand, the hotel offers 207 stylish rooms and suites across six levels. Their sleek design isdominated by monochrome white, black and silver colouring, creating interesting accents due to subtle, indirect lighting that also complements the luxurious wooden texture of the floors. All rooms and lifestyle suites boast king or queen-size beds, individually adjustable air conditioning, a 40-inch LED television set, a free soft drink minibar, free Wi-Fi, desks including a media hub and high-speed Internet access, as well as open-plan bathrooms with a rain shower.
Fast-paced city living meets total relaxation
As a leading urban lifestyle hotel group, INNSIDE by Meliá properties are designed for the intrepid city explorer, as well as the discerning professional traveler who is looking to connect, work and play during their stay. This unique combination of business and leisure alongside pleasure thus offers innovative concepts for hotel guests and local visitors alike. With functional, design-led communal areas, free and fast Wi-Fi, creative meeting spaces, round-the-clock exercise classes and relaxing wellness areas, INNSIDE by Meliá caters to every need of the modern traveler and work tripper.
The chic and modern lobby, which no longer includes a classic reception desk, but a digital check-in/check-out machine, a merchandising corner and a communal table, leads guests to the "Werft" bar and restaurant area with its large waterfront deck overlooking the Mittelkanal channel. With a causally chic ambience, a variety of entertainment and a high-tech communications hub, "Werft" offers hotel guests and locals an array of international crossover cuisine with a local touch. This includes sumptuous grilled dishes and delectable "food-to-share", small snacks for sharing, which are complemented by carefully selected wines and cocktail, highlighting INNSIDE by Meliá's focus on mixology at the heart of the brand. Eclectic weekly DJ events also ensure a unique atmosphere for guests' enjoyment and relaxation, for example "Bleisure Beats" on Wednesday nights and Thursday mornings during breakfast.
Similarly, those who wish to relax by working off the day's stresses can use the fully equipped gym with the latest fitness equipment. Whether it's burning off that long desk-bound day on the treadmill or availing of INNSIDE by Meliá's INFIT program with a selection of virtual classes in different sport disciplines (Spinning, Body balance, Body Combat and more), work day pressures and travel fatigue will be a distant memory. Coupled with an inviting sauna area including relaxation and massage rooms, INNSIDE Hamburg Hafen is the perfect place to combine a work and pleasure trip.
Creative meetings instead of traditional conferences
Innside Hamburg Hafen provides more than 230 square meters of conference space to accommodate modern business needs. This includes two bright, fully air-conditioned event rooms which are flexibly combinable and equipped with state-of-the-art media technology. Alongside this, an exceptional "Big Idea Space" conference room has been purposefully designed in a cosy home-away-from-home style to inspire guests' creativity and ingenuity. Furnished with comfortable sofas and relaxing armchairs, stools and bistro tables, the space accommodates up to 20 people – culminating in a tennis table with seats arranged in a useful block shape. Flipcharts are a thing of the past – guests are now invited to draw on the walls to encourage them to think imaginatively. Moreover, the 40-square-metre room comes with an integrated LCD projector, mobile 80-inch monitors, a refrigerator containing non-alcoholic beverages, as well as a candy bar to satisfy any much-needed sugar fixes. This innovative conference concept that can also be found at Innside Frankfurt Ostend was distinguished as one of the three coolest conference rooms in Germany by the TopHotel magazine in June 2017.