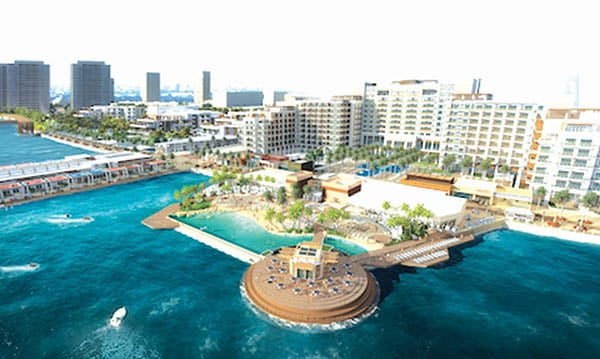 It has been announced that the Hilton Abu Dhabi Yas Island Resort will be part of an AED12 billion development plan by Miral for the southern end of Yas Island, in efforts to further position the island among the world's most sought-after destinations by 2022.
B.R. Kiran, Chief Portfolio Officer of Miral said: "We are proud to announce our partnership with Hilton which represents another milestone in our journey to establish Yas Island as a top global destination. The creation of a world-class family resort at the heart of Yas Bay, our iconic waterfront development, will provide visitors with a five-star opportunity to extend their leisure and business stays and enjoy the unique attractions and memorable experiences that only Yas Island can offer."
Hilton Abu Dhabi Yas Island Resort, opening in 2019, will be located in the Yas Bay, a 3-kilometre stretch that is, according the press information, "anticipated to become one of the most iconic and vibrant waterfront destinations in the region."
The resort's facilities will include a multi-purpose conference centre, seven dining outlets and an innovative urban beach concept with an infinity pool suspended above the waters of the Arabian Gulf. The resort is also nearby the 18,000 capacity Yas Arena, a multi-purpose indoor arena designed to host large and intimate scale events including sporting competitions, major cultural performances, concerts and MICE activities.
Carlos Khneisser, VP, Development, MENA, Hilton said: "This represents a landmark deal for Hilton and puts us at the forefront of the transformational journey Yas Island is undertaking to become one of the world's top leisure destinations. The Resort is indicative of the calibre of project we are looking at for our resort portfolio here in the Middle East."
The South of Yas Island development is targeting more than 15,000 new residents, 14,000 daily visitors and 10,000 working professionals at the new campus of the twofour54 media zone.
Hilton Hotels & Resorts has a longstanding history in Abu Dhabi, stretching back more than 40 years when Hilton Abu Dhabi become the city's first international hotel.