Today marks the first day of the Sicilian grape harvest and what many people don't realize is that Sicily, the largest island in the Mediterranean, is one of Europe's oldest wine regions. These attributes are enough to attract oenophiles and beach aficionados alike, but pairing them with a breathtaking backdrop of ancient landmarks and a melting pot of culture and flavor make Sicily a definitive bucket list destination.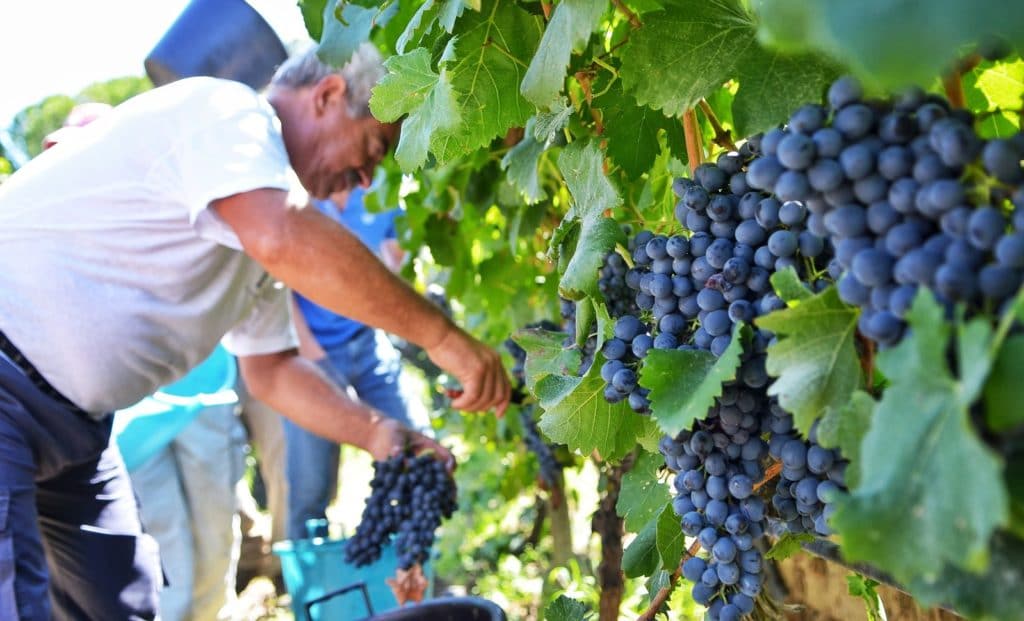 This often overshadowed ancient island sits just 2 miles off the southern coast of mainland Italy. At the same time, southern Sicily is only 40 miles off the coast of Africa. Sicily is surrounded by 900 miles of shoreline and is home to Mount Etna, the largest active volcano in Europe, which climbs 11,000 feet high. The island's unique geographical location and contrasting topography come to fruition in the grapes grown across Sicily's nine wine growing regions, most prominently in its most popular indigenous wines, Nero d'Avola and Grillo.
It's for good reason that Sicily is coming into its own with curious American travelers seeking their next wine adventure. In 2016, Sicilian wineries estimated a 35 percent increase in tourists over the past year. In 2017, Wine Enthusiast magazine named Sicily a Top 10 Wine Travel Destination.
"Interest and demand for our wines is increasing as more Americans have ventured to the island, bringing home a love of Sicily and asking for more of our fresh, friendly and accessible red and white wines on restaurant menus and at retail locations across the country," said Antonio Rallo, President of Sicilia DOC, a consortium of more than 130 wine producers across the island. The Sicilia DOC designation on a bottle of wine from Sicily represents quality and preservation of natural heritage.
The last three years have seen a 60 percent increase in exports of Sicilia DOC wines. Demand extends across the globe to countries like China and Germany, where people are discovering that wines from Sicily are an agreeable pairing with international cuisines ranging from sushi to sausage. As a result, Sicilia DOC producers are planting more indigenous grapes, like Grillo and Nero d'Avola, to commensurate with the predicted increase in demand over the next decade.
Because of Sicily's unique and diverse island climate and topography, its harvest season is the longest in the world, lasting about 100 days. Harvest season represents another travel opportunity offering a convergence of cultures – including multiple generations celebrating with harvest meal traditions across the island. Whether you are traveling to Sicily through a glass of Grillo on your balcony, or planning to pick some grapes during a harvest season tour, here's what to expect:
GETTING THERE – TRAINS, PLANES OR AUTOMOBILE!
Sicily's airports in Catania, Palermo, Trapani and Comiso offer international flights from most major cities in continental Europe. Arriving to Sicily by train is a unique experience – passenger cars are loaded onto a ferry to cross the Straight of Messina – and all major cities have working rail systems. Ferries make frequent trips from the Italian mainland to Sicily as well. Getting around the island by car is easy. Modern highways connect all major cities and all the rules for driving are similar to those in the US.
TRULY AN ISLAND OF CONTRASTS
One side of Sicily provides a much different experience than the other. Western Sicily offers fascinating towns, pristine sandy beaches and some of the best preserved Greek temples anywhere. In Eastern Sicily, you can stroll the streets of Trapani perusing upscale boutiques while enjoying views of the Mediterranean. During that same visit, you can trek to Mount Etna, named "the most active volcano in the world" as well as the biggest nature reserve on the island. In addition to having the most diverse culinary offerings in Italy, Sicily is an oasis of ancient archeological and UNESCO heritage sites.
KNOW THE GRAPES
Wine experiences can be found in every province on the island. Sicilian wineries are increasingly including hospitality as part of their daily schedule and many wine specialists offer concierge-style experiences. You won't be able to miss Nero d'Avola and Grillo wines as they are among the leading Sicilian native grapes. Grillo offers vibrant fruit quality and bright acidity to lighter, more herbal dishes, and is more unique and flavorful than Pinot Grigio and a great alternative to Sauvignon Blanc. Nero d'Avola is one of the Mediterranean's most regal red wines, featuring royal ruby color, aromas and a mosaic of flavors – from raspberry and sour cherry to blackberry, plum, currant and spice, all with silky tannins.