Marriott International announced the grand opening of five distinct Marriott Hotels across Japan, broadening the spectrum on the country's scenic destinations. International and local travelers alike will be invited to explore the diverse beauty Japan has to offer, with collectively more than 800 rooms available for their journeys.
Whether guests are seeking refuge from the big cities by embarking on an eco-tour into the mountains, or taking a dip in the healing hot springs, distinctive cultural influences can be uncovered in each of the deluxe resorts. Authentic regional cuisines can be savored at the hotels' onsite restaurants, all named The Grill & Dining G Restaurant. The five hotels are gateways to exploring Japan's stunning scenic beauty, from the lake area surrounding Mount Fuji to the white sandy beaches, temples, bamboo groves and modern art further afield.
Set amidst a rich natural environment, the Karuizawa Marriott Hotel is located only 70 minutes away from central Tokyo. Spread across four wings, the 142 rooms are designed in a modern style fused with Japanese elements. Suites suitable for families are available as well as premium rooms featuring forest views and private hot springs. Dog-friendly cottages onsite allow for holidays in a pet-friendly environment. The Grill & Dining G Restaurant offers local tastes, while corporate functions and private events can be held in a choice of three conference and banquet rooms. Guests can also enjoy the An Spa Karuizawa, a 24-hour Fitness Center or submerge in the large hot spring communal bath.
Izu Marriott Hotel Shuzenji is nestled into the densely wooded hills of the Izu Peninsula. Interiors of this 128-room hotel merge contemporary Japanese aesthetic with Western influences, some with private open-air baths. Taste grilled regional Japanese cuisine and international favorites at the restaurant, while the two banquet halls are ideal for meetings and special events. Diverse wellness options include a large communal onsen hot spring, bedrock bath and 24-hour Fitness Center. Guests can also enjoy a large gymnasium, golf & putting range as well as tennis courts.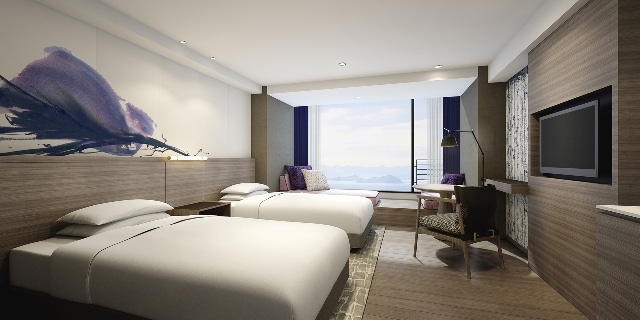 The 105-room Fuji Marriott Hotel Lake Yamanaka peacefully unveils mesmerizing views of iconic Mount Fuji. This hotel offers both Japanese tatami and streamlined Western-style guestrooms, with premium rooms featuring private hot spring baths as well as spacious executive suites ensuring a tranquil stay. Enjoy regional dishes on offer at the hotel restaurant, which also includes an exclusive private room for up to 40 guests, ideal for private functions. Two conference rooms, a communal onsen hot spring and tennis courts, complete an environment fit for work and play.
Located close to Kyoto, Lake Biwa Marriott Hotel showcases the beauty of Japan's largest lake. Breathtaking views are offered in the hotel's 274 guestrooms, which include Japanese-style rooms and executive suites. Local delicacies are celebrated at The Grill & Dining G Restaurant and large banquet facilities are ideal for conferences or social events for up to 500 guests. A true wellness destination, the hotel also offers a communal hot spring, 24-hour Fitness Center as well as affiliated recreational facilities such as a 1,000 sqm gymnasium, tennis and futsal courts, an indoor swimming pool and a planetarium with 166 seats.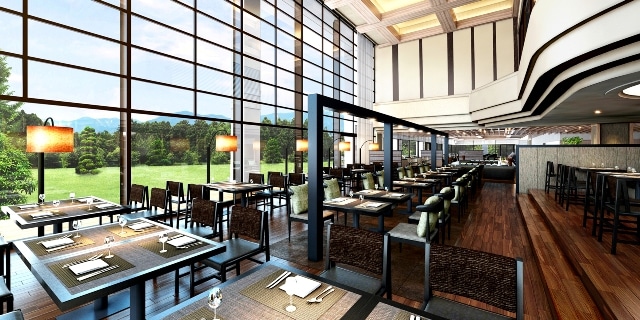 Nanki-Shirahama Marriott Hotel is home to mountain trails and white sandy beaches, set against enthralling sunsets, that can be admired from the 182 Japanese and Western-style rooms that embrace the 'Marriott Modern' design ethos. Get in touch with the local by trying the freshest seafood dishes and enjoying the large communal onsen hot spring, or by taking in the breathtaking scenery from the outdoor swimming pool with a children's zone in the summer months.