Delta has launched phase one of a test program designed to enhance the gate experience and streamline the boarding process for customers at T Concourse at Atlanta's Hartsfield–Jackson International Airport.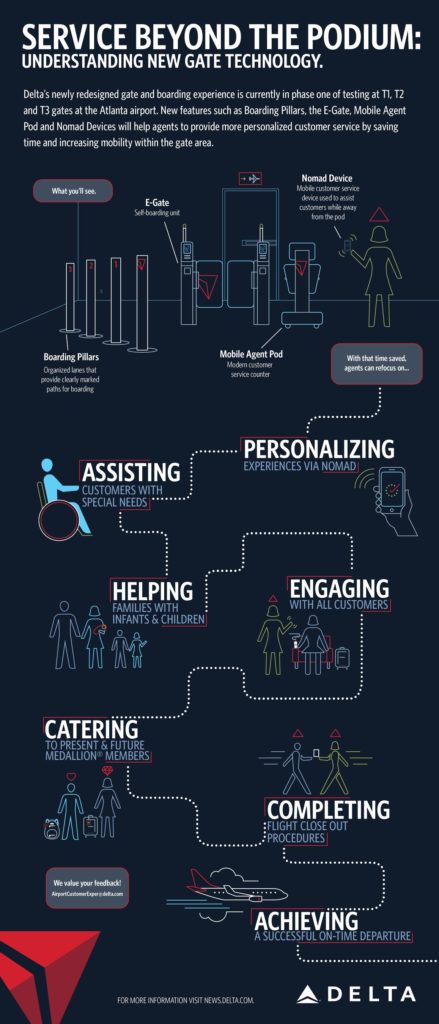 As part of this three-month pilot project, customers will encounter the following features when traveling through T1, T2 and T3 gates:
Redesigned Gate and Boarding Experience
Redesigned Gate and Boarding Experience
Mobile agent pods that are modern podiums with a smaller footprint than traditional gate counters, opening up space for more efficient boarding and additional customer seating.
Handheld Nomad devices that allow gate agents to make seat changes, check bag status and more, while also freeing agents to more easily engage with customers rather than standing behind a traditional gate counter.
Boarding pillars that create four parallel lanes, not only enhancing organization at the gate but also providing customers with a clear path to boarding, improving traffic flow.
E-Gates that enable passengers to seamlessly and efficiently self-board by scanning their smart phone or boarding pass.
Later this year, phase two of testing will focus on increased agent mobility, the customer's digital experience at the gate and how to integrate biometric boarding based on testing under way at Reagan Washington International Airport.
These gate and boarding enhancements are the latest examples of Delta's investments in innovation. Over the past year, Delta has led the industry on a number of customer solutions like replacing ID checks throughout the travel ribbon with fingerprint scanning, biometric-based self-service bag drop, RFID baggage handling, real-time bag tracking via the Fly Delta mobile app, more efficient and high-tech automated screening lanes and a groundbreaking app that helps Delta pilots avoid turbulence for a more comfortable flight.
Core to the innovation strategy, employee and customer feedback from the ATL test will be incorporated into this new gate experience to further improve the boarding process in Atlanta and across the network.