Shangri-La Hotels and Resorts has announced the development of a new urban resort in Fujian Province at a groundbreaking ceremony in the Chengxiang District of Putian. Scheduled to open in the fourth quarter of 2020, Shangri-La Hotel, Putian will be the group's third property in Fujian Province, following Shangri-La hotels in Fuzhou and Xiamen.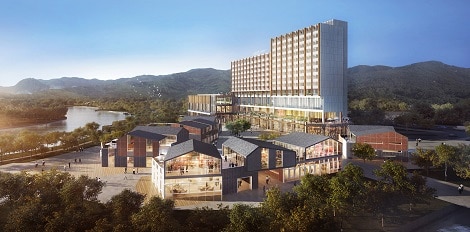 Renowned for being the origin of Mazu, the Goddess of the Sea in Chinese culture, Putian is a well-known cultural city with a history of more than 1,400 years. It has distinctive advantages of coastal scenery and cultural tourism resources. In recent years, Putian has successfully diversified its economy. As an important manufacturing centre on China's Southeast Coast, the city is being transformed and upgraded, resulting in a new level of innovation and growth. Real estate and tourism developments are flourishing, while cultural and creative industries are being explored as new directions.
Dedicated to bringing a new international, luxurious hospitality experience to the city, Shangri-La Hotel, Putian will have 247 well-appointed guest rooms offering panoramic views of the city and Yanshou river. The hotel will include a lobby lounge, restaurants, spa, fitness centre, swimming pool and a 1,200-square-metre ballroom. Next to the hotel will be a lively mix of restaurants, bars and retail shops set in a 3,500-square-metre village-style plaza. The hotel is conveniently located within a 20-minute drive from the train station.
Uniquely positioned at the juncture of history and modernity, Shangri-La Hotel, Putian will pay tribute to the river town's ancient heritage as well as harmony between man and nature. The hotel overlooks Yanshou River southward and the landmark Shouxi Park, which is one of the largest ecological city parks in Fujian Province. The hotel is also adjacent to the renowned Yanshou Village, where the millennium-old Yanshou Bridge, a 900-year-old lychee tree ("The Champion Red") and a collection of antique temples and ancestral halls are found. The entire area will be protected and developed into a folk culture village by the local government to create a destination for leisure, recreation, culture and tourism.
Shangri-La Asia Chief Executive Officer Mr. LIM Beng Chee said, "Putian has remarkable economic potential for both business and tourism, which presents a great opportunity for the group. The design and construction of Shangri-La Hotel, Putian will reflect a distinctive blend of nature and culture. We look forward to creating a unique dining and stay experience for guests and local residents, and to bringing a dynamic lifestyle experience to the city."
Hong Kong-based Shangri-La Hotels and Resorts, one of the world's premier hotel management companies, currently operates over 95 hotels in 22 countries and 73 destinations under the Shangri-La, Kerry, Hotel Jen and Traders brands. Prominently positioned in Asia, the group has established its brand hallmark of "hospitality from the heart" over four decades in Asia Pacific, the Middle East, Europe, North America and the Indian Ocean. The group has a substantial development pipeline with upcoming projects in Australia, mainland China, Cambodia, Indonesia, Malaysia, Saudi Arabia and Sri Lanka. For more information, please visit www.shangri-la.com.