When 18 of the world's best canopy piloting athletes take the jump in the 2017 FAI Swoop Freestyle World Championships this August, they will be landing their parachutes on a lake right in the heart of Copenhagen.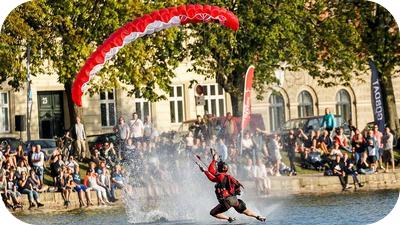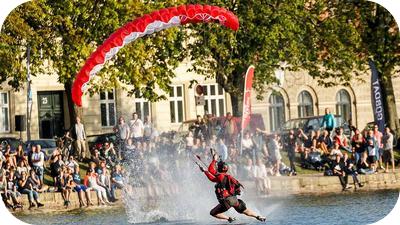 The Danish capital is hosting the two-day event, which will take place from 25 to 26 August at Peblinge Lake, central Copenhagen and is expected to attract more than 100,000 spectators.
By turning one of its many public spaces into a vibrant backdrop for the first ever World Championships in freestyle swooping, Copenhagen is introducing a whole new urban world championship setting for world class air sport – a concept that is truly unique to the city. Other sports have already enjoyed the central stage that Copenhagen has to offer when hosting a major sports event. In 2011, the city welcomed the World Road Cycling Championships, which saw the world's top riders pedal through its inner streets, while the 2015 World Archery Championships took place in front of Christiansborg Palace, the home of the Danish Parliament.
With FAI Swoop Freestyle World Championships, Copenhagen is once again letting its public space take centre stage, giving locals and visitors as well as the athletes a unique experience.
"There could not be a better venue than in the heart of this great city. It really is unique, and will help bring this rapidly growing sport to thousands of spectators both in the city and through the media. I would like to wish all the competitors, organisers, and volunteers a fun, safe and fair competition. I am looking forward to following this amazing event," says FAI President, Frits Brink.
The high-impact, adrenalin-fuelled discipline of Freestyle Canopy Piloting is known as Swooping, and involves parachutists flying at high-speed across a 'Swooping Pond' to score points based on style and execution.
For the past three years, central Copenhagen has set the scene for the Swoop Challenge, which has since grown at a rapid pace and is now becoming the world's first championships of its kind. In addition to the 100,000 spectators, millions of people from around the world are expected to be watching the event online.
"We are incredibly pleased to see how Copenhagen, with its many urban spaces and sports enthusiasts, has helped put another sporting event on the international map. There is no doubt that the support this event enjoys from Copenhageners and visitors alike has contributed to its growing success, demonstrating what can be achieved when integrating big events into the public space," says Lars Vallentin Christensen, Head of Events at Wonderful Copenhagen.