An estimated 52 million foreign tourist travelled to Italy in 2016. Italy hosts the most UNESCO World Heritage Sites in the world and even the "cucina italiana" – as one of the most influential kitchens worldwide – was honoured with the title world heritage. Italy is a synonym for pasta, pesto, antipasti, dolce vita, extra-virgin olive-oil, exquisite coffee beverage, cheese products and wine. The slow-food movement was established in Italy already in the 1980s as counterpart to fast-food. Focussing on organic and regional products with respect for dolce vita. Many green and eco-friendly projects in rural and urban areas demonstrate these sustainable ways of thinking and acting. Reasons enough to spend a eco-friendly holiday in Italy and to take a sustainable souvenir back home.
Sustainable in the fashion capital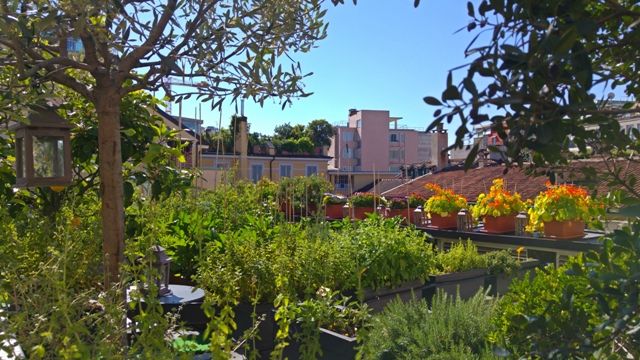 Image 1 of 7
The Hotel Milano Scala, located in the centre of Milano, proofs that green and eco-friendly accommodations are not only to be found in rural areas but also in big cities. It was opened in 2010 as first Zero-Emission Hotel in the fashion capital and meets the highest energy efficiency standards. No CO2 emissions will be released into the atmosphere during the guest's stay. The herb garden on the sixth floor with its view over the roofs of the artists' quarter Brera and the Milan Cathedral is known to be an oasis for relaxation. The air on the terrace is filled with the scent of fresh herbs, summer flowers, fruits and vegetables, which are processed by the kitchen. Another green city hotel in Milan is Starhotels E.c.ho., the first ecological hotel of the Italian group brings eco-chic to Italy's fashion capital. The hotel is the best example of the group's effort to reduce its environmental impact while providing an unforgettable and natural experience of eco-responsibility for guests. Highest energy standards are met and water is not only consciously used but also reused. For breakfast and in the in-house restaurant you will find a wide selection of organic food and vegetables. The partnership with Eataly ensures furthermore a close working relationship with producers and that all ingredients are regionally sourced.