Organised by the Istanbul Foundation for Culture and Arts (İKSV), with Garanti Bank as its sponsor for the past twenty years, the 24th Istanbul Jazz Festival kicked off with the opening ceremony and concerts at the Consulate General of Austria, Austrian Cultural Office Garden on Tuesday, 4 July.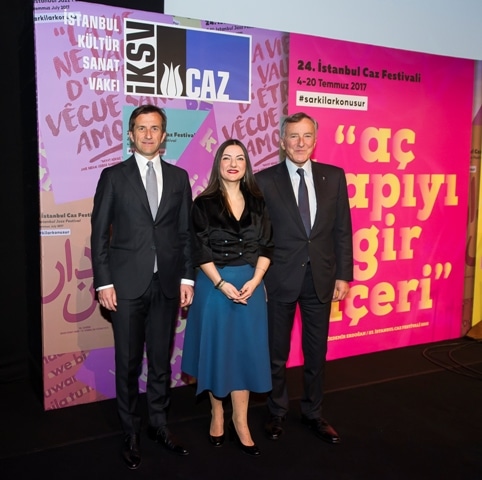 During the opening night, the 24th Istanbul Jazz Festival's Lifetime Achievement Awards were presented to Kamil Özler, the conductor of TRT Big Band, and Fatih Erkoç, one of the veteran names of Turkish pop and jazz music. Following the ceremony, Fatih Erkoç took the stage for a special concert before leaving the stage to the Balkan-rooted electro swing band DELADAP from Austria.
At the opening night presented by the Istanbul Jazz Festival Director Pelin Opcin, gratitude plaques were presented to the representatives of İKSV's Leading Sponsor Eczacıbaşı Group, Official Communication Sponsor Vodafone Turkey, Official Carrier DHL, Official Hotel Sponsor The Marmara Collection, Insurance Sponsor Zurich Insurance; as well as to Türk Tuborg A.Ş. for its support for the festival, Jazz in the Parks Sponsor and Performance Sponsor Vodafone Freezone, Automotive Sponsor Volvo Car Turkey, Vitrin Series Sponsor and Performance Sponsor with the Highest Contribution SOCAR Turkey, Performance Sponsor with the Highest Contribution Matraş and Venue Sponsor with the Highest Contribution Zorlu Performing Arts Center by General Director of İKSV Görgün Taner. Garanti Bank, the sponsor of the festival for 20 years was also presented with a plaque. The festival also acknowledged the contributions of Turkey's Ministry of Culture and Tourism.
Festival's Lifetime Achievement Awards
The 24th Istanbul Jazz Festival's Lifetime Achievement Awards were presented to Kamil Özler and Fatih Erkoç.
Fatih Erkoç's first encounter with music was when his father Hasan Erkoç, who is an oud player, gave him a violin as a gift at the age of three. He studied trombone, piano and bass for seven years at the Istanbul Municipal Conservatory. Erkoç started to work in İstanbul Gelişim, one of the most popular orchestras of the period before graduating and also worked at the İstanbul State Symphony Orchestra as a short term trombone player. Returning from Norway in 1986 after living there for 11 years, Erkoç won the first prize at the 1st Golden Pigeon Song Contest in Kuşadası for his song "Yol Verin A Dostlar". He also produced a music programme called "Yankılar" for TRT. Throughout the 90s Fatih Erkoç has become one of the unforgettable figures of pop music with his albums Ellerim Bomboş (1992), Penceremden Gökyüzüne (1993), Sana Deliyim (1994), and Kardelen (1996). After a six-year break that followed his latest album of 1999, the artist released Beklenen in 2005. In 2007, Fatih Erkoç released Kör Randevu in which he performed some of his most popular songs with new arrangements.
First week at the festival
"Terramondo" Jacky Terrasson & Stephane Belmondo
Can Çankaya & Kağan Yıldız
Wednesday, 5 July 20.00, French Palace Garden
Jacky Terrasson and Stephane Belmondo will perform together on a mesmerising night where the glamour of classical jazz will shine bright. The opening of the night is by the rising stars of local jazz scene, pianist Can Çankaya and double bass player Kağan Yıldız.
Korhan Futacı and Kara Orkestra // Rain Lab (İdil Meşe & Da Poet)
Wednesday, 5 July 22.00, Salon İKSV
Two exciting bands from Turkey will perform within the scope of festival's showcase Vitrin: Korhan Futacı and Kara Orkestra will offer a sonic adventure ranging from indie rock to free jazz and Rain Lab, the joint project of Da Poet and İdil Meşe specializing in trip-hop and hip-hop will offer a unique concert experience. Vitrin project is supported by Vitrin Series Sponsor SOCAR Turkey.
Junun Featuring Shye Ben Tzur and the Rajasthan Express / Miles Mosley / Bilal Karaman Trio / MadenÖktemErsönmez
Friday, 7 July, 19.45, Beykoz Kundura
The performance of the bass guitarist, vocalist and composer Miles Mosley will be followed by Junun, a project by the spiritual composer and poet Shye Ben Tzur and the Indian band The Rajasthan Express. The evening will be co-billed by the trio of talented jazz guitarist Bilal Karaman, and the dream team of Turkey's new jazz generation, MadenÖktemErsönmez.
"Jazz Matinée" Yürüyen Merdiven Feat. Tolga Bilgin & Kristian Lind // Geeva Flava
Saturday, 8 July, 13.45, Salon İKSV
Geeva Flava will be the opening act of the session with their cheerful and dynamic performance. The joint project of Yiğit Özatalay and Mustafa Kemal Emirel: Yürüyen Merdiven will then be on stage, joined by Swedish double bass player Kristian Lind and trumpeter Tolga Bilgin.
"A Childlike Day" Oran Etkin Timbalooloo
Saturday, 8 July, 15.00, Sabancı University, Sakıp Sabancı Museum
The festival puts a smile on children's faces this year! Children will discover their musical talents with concerts and workshops while having a blast on this Saturday with the world renowned clarinet virtuoso Oran Etkin, young pianist Hakan Başar and Music for Peace Brass Ensemble.
Flamenco! Remembering Paco De Lucia with Jorge Pardo, Carles Benavent, Jose Maria Bandera, Nino Josele, David de Jacoba, El Piranha, Levent Yüksel, Cenk Erdoğan and Taksim Trio
Saturday, 8 July, 21.30, Zorlu PSM Main Theatre
At this special tribute night, famous stars who have collaborated with the cult flamenco guitarist and composer Paco de Lucia at different stages of his career will meet with five iconic local musicians with flamenco influences. This performance will be sponsored by Matraş.
Night Out
Thursday, 6 July, 19.00, Kadıköy, Moda
The festival's music marathon night will once again give the stage to the most promising and popular artists of the local scene under the sponsorship of Vodafone Freezone. This year more than 20 names will perform in some of the best venues of Kadıköy and Moda districts.
"Jazz in the Parks" Mastretta // Young Jazz Concerts
Sunday, 9 July, 16.00, Fenerbahçe Khalkedon
In this free-of-charge, open air event, the selected Young Jazz groups and the Spanish vintage swing outfit Mastretta will drift the audience away from the city's hassle in one of the most beautiful spots of Istanbul scenery under the sponsorship of Vodafone Freezone.
The 24th Istanbul Jazz Festival will host leading names and new discoveries from the world of jazz as well as the stars of contemporary music with more than 200 names in 20 different venues around Istanbul between 4-21 July 2017.