Timeless, modern and high quality – Lufthansa is now serving its guests in Economy Class meals and drinks on new tableware on all intercontinental flights. With a clear use of form and elegant, consistent design, it should appeal to all target groups and also stand the test of time when it comes to fashion trends. It is also more environmentally friendly and easier to handle than the previous design. In total, around 900,000 individual components will go into service worldwide in the next few days.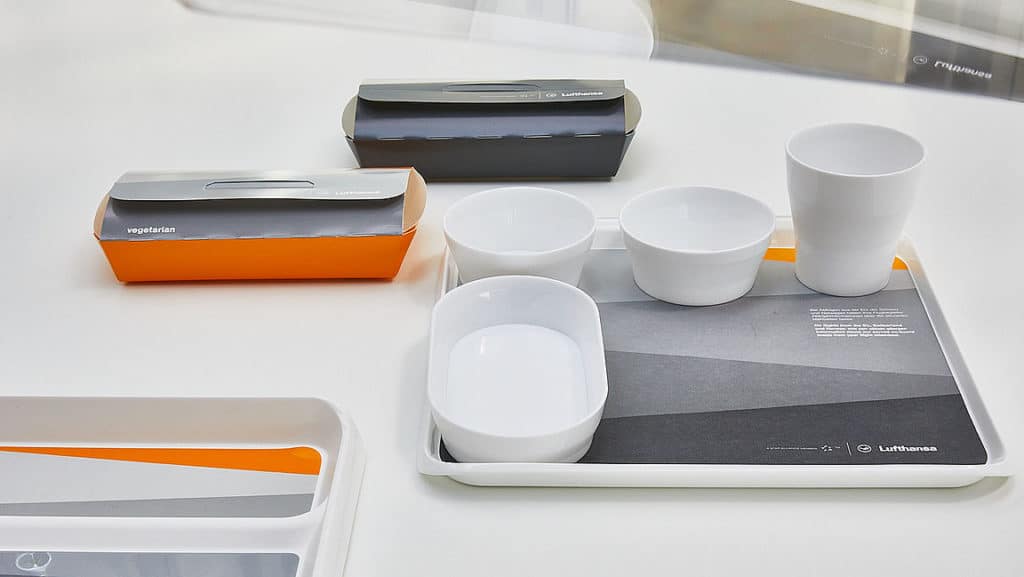 Lufthansa Product Management has worked together with designers from the LSG subsidiary company Spiriant to design the new tableware completely from scratch – from choice of materials and colors to shapes and individual components. Trays, coffee cups, packaging and accessories will now all appear in the new look. Visually, the new Economy Class tableware is characterized by its faceted shapes. Dynamic lines create shadows which give the tableware different color nuances, depending on the light reflection. Two different surfaces – matt and smooth – ensure a pleasant feel.
The new tableware is also more environmentally friendly. Disposable materials will be largely dispensed with, thus significantly reducing volume of waste. New trays offer more stowage options due to their space-saving design which means that one trolley can accommodate more meals than before. Slip-resistant materials, like the new anti-skid coating, facilitate handling for the crew. The tray holds the meal in a slightly tilted position and stowing the trays back is also significantly easier.