Under the title 'Tourism and Future Energy: Unlocking low-carbon growth opportunities', industry leaders and policy makers have convened in the Kazakh capital city of Astana to discuss the contribution of the tourism sector to reducing carbon emissions. The Conference is a joint initiative of Astana EXPO 2017 and the World Tourism Organization (UNWTO) with the support of the Ministry of Culture and Sports of Kazakhstan.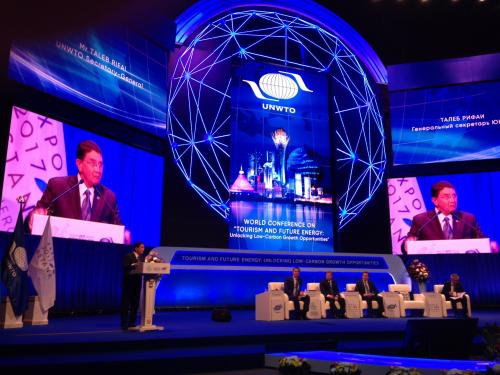 The event is held in the framework of the International Year of Sustainable Tourism for Development 2017 and aims to advance the commitment of the tourism sector to the global climate change agenda.
Discussions were focused on how to implement mitigation and adaptation measures in transport, accommodation and destinations in the scope of the Sustainable Development Goals – especially Goal 8 (Decent Work and Economic Growth), Goal 12 (Responsible Consumption and Production) and Goal 13 (Climate Action).
"One of the fastest-growing economic sectors nowadays, tourism represents 10% of the world's GDP, 7% of global exports and 1 in every 10 jobs. But with growth comes responsibility as we work towards building a better future for a people and planet of prosperity and peace," said UNWTO Secretary General Taleb Rifai.
"Tourism is estimated to account for 5% of global atmospheric CO2 emissions. We need to move towards a truly green tourism economy where growth is decoupled from environmental or cultural degradation", he added.
"Tourism is a priority for Kazakhstan. Tourism is a driver of socio-economic development and we plan to increase the share of GDP from 1% to 8% by 2025," said Askar Mamin, First Deputy Prime Minister of Kazakhstan, who requested UNWTO's support to construct a sustainable tourism sector.
"The Prime Minister defined tourism as one of the pillars for the modernization of the national economy," said Minister of Culture and Sports of Kazakhstan Arystanbek Mukhamediuly.
The Chairman of the Board of EXPO 2017, Akhmetzhan Yessimov, said: "The Expo is a unique opportunity to introduce Kazakhstan to the world and provide an impetus for comprehensive development of tourism".
Curbing emissions, energy efficiency, the use of renewable energy and sustainable practices were underlined as key to ensure tourism's contribution to the Paris Agreement. The Conference concluded on the need to:
1. Secure the commitment of all actors at national and local level (public and private sectors)
2. Develop policies and strategies at local level (cities and destinations)
3. Strengthen knowledge of how to change energy use patterns to generate investment opportunities
4. Move towards a green economy where growth is decoupled from the use of natural resources and
creates green jobs
5. Fight climate change along the entire tourism value chain (transport to and within destinations,
hospitality industries and activities)
6. Improve measurement for better management at global and local level
7. Adapt and act fast knowing there is no "one-fits-all" solution
8. Engage all stakeholders including local communities, staff and tourists and ensure the benefits of low-
carbon growth are distributed to all
9. Build links with other sectors
10. Develop tourism products with low-carbon impact that can create jobs, especially for women and youth