In 1947, Air France inaugurated the service connecting Paris to Fort-de-France (Martinique) and Pointe-à-Pitre (Guadeloupe). Seven decades later, the company currently connects Martinique and Guadeloupe respectively with up to 11 weekly flights to Fort-de-France and up to 13 weekly flights to Pointe-à-Pitre on departure from Paris-Orly. Since then, more than 1.5 million people have been travelling annually with Air France between Metropolitan France and the French West Indies thanks to 24 weekly frequencies operated by Boeing 777-300 with a capacity of 468 seats – 14 in Business, 32 in Premium Economy and 422 in Economy.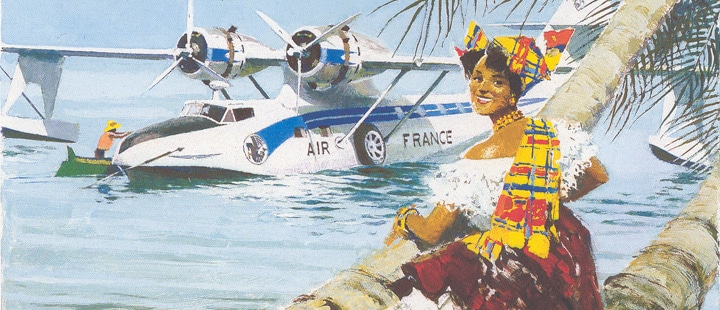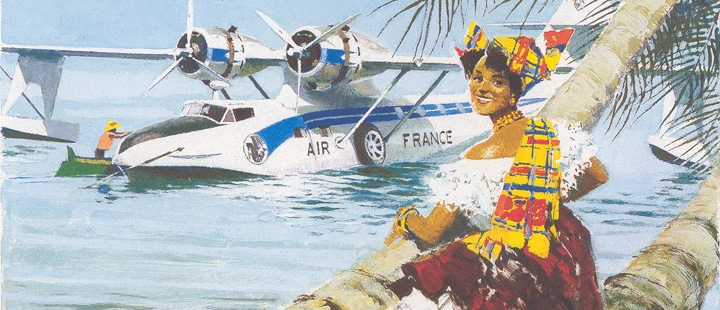 In July 1947, the Latécoère 631 flew for the first time from Metropolitan France to the West Indies. Excluded from air travel for a long time, the West Indies were now part of the Air France network.
In 1935, Air France sent its Latécoère 521, "Lieutenant de Vaisseau Paris" to Fort de France in Martinique, for a special flight. But it was not until July 1947, that an aircraft – the Latécoère 631 "Henri Guillaumet" – connected Metropolitan France to the West Indies. From Biscarosse, in the Landes, the "Laté" served Fort de France in 30 hours, twice a month. The route was complemented by a local network: Catalina aircraft flew between Martinique (Fort de France), Guadeloupe (Pointe à Pitre), Trinidad, French Guiana (Cayenne) Venezuela and Colombia.
And for ever more choice, Air France connects Pointe à Pitre (Guadeloupe), Fort de France (Martinique), Cayenne (French Guiana), Port au Prince (Haiti) and Miami (USA) thanks to its regional network in the Caribbean. Two Airbus A320s (170 seats) and crews dedicated to this network operate more than 60 flights a week between these different economic centres of the region.
In addition, Air France offers 10 destinations from Pointe à Pitre and Fort-de-France: St. Lucia, San Juan, Santo Domingo, St. Martin Grand Case, Sint Maarten Juliana, St. Barthelemy, Fort-de-France, Dominica and Barbados, operated on a code-share basis with Air Antilles. With its partner Winair, Air France customers also have access to 7 destinations in the Caribbean via Saint Martin: St. Barthelemy, Dominica, Tortola, Saba, Saint Eustache, Saint Kitts and Nevis and Antigua.