As from 1st July 2017 and over the next three months, François Adamski will be creating dishes on the Air France Business class menu. The Michelin-starred Chef will be creating six new dishes to enhance the pleasure of Air France Business customers on board long-haul and medium-haul flights1 departing from Paris.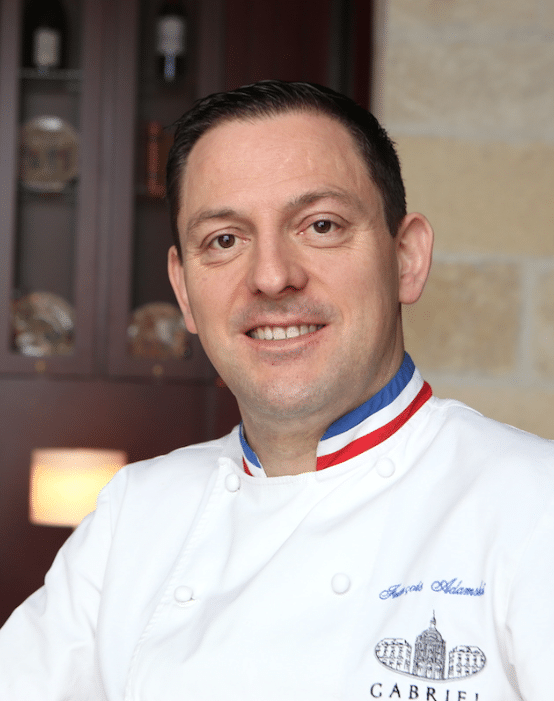 In July:
– Roast chicken thigh, curry risotto and chorizo,
– Lightly smoked shrimps, coloured vegetable balls and creamy lemon sauce.
In August:
– Slow-cooked beef with creamy tomato sauce, mashed potatoes with green olives,
– Roast chicken fillet with supreme truffle sauce, carrots, celery and mushrooms.
In September:
– Candied lamb shoulder, semolina with baby vegetables, preserved lemon,
– Cod with meat jus, crumble with hazelnuts, parsnips, celery, chestnuts.
François Adamski has become one of the most brilliant disciples of the classical French school, providing cuisine that is meticulous, simple in appearance, where every detail counts. The Chef shares his taste for culinary delights with Air France customers, as well as the smells and flavours from his childhood, an art that was handed down to him from an early age by his mother. He learnt his perfect mastery of techniques from the greats such as Michel Roth and Eric Briffard, his first mentors. He then successfully worked in all four corners of France.
Having received two Michelin stars in Bourges and Bordeaux, he now creates menus for major restaurants in the South-West. His dishes invite all Air France Business customers to enjoy his culinary skills: cuisine without pomp and ceremony, which tastes just right and is always surprising.
Since October 2015, François Adamski, Meilleur Ouvrier de France (2007) and Bocuse d'Or (2001), has been working with Servair and Air France in the long and medium-haul Business cabins. In keeping with his commitments, the Michelin-starred Chef is also the president of the French Bocuse d'Or team, an association that supports the French candidate, of which Air France and Servair are Premium partners.
With the "À la Carte" dishes available on all the company's long-haul flights2 departing from Paris-Charles de Gaulle, Business and La Première customers also enjoy more freedom and pleasure during their flight, with Asian or seafood dishes. Six dishes are offered to customers free of charge on a pre-order basis before their trip:
– Thai cuisine,
– Traditional Chinese;
– Flavours of India;
– Japanese delights;
– A taste of Korea;
– Seafood basket.