Meliá Hotels International announced its latest investment in Palma, the Innside Palma Bosque Hotel, in Camilo José Cela Street (Joan Miró/Son Armadams district), in line with the ongoing renovation, rebranding and repositioning of the company's hotels in Mallorca.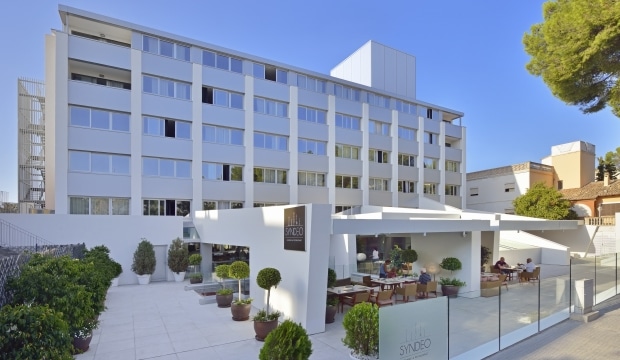 The new Innside Palma Bosque stands out for its new facade, with shapes and designs that provide a modern and avant-garde air, and also features new outdoor areas such as the extension of the Syndeo Restaurant at ground level, ideal for both guests and the general public as an after-work meeting place. The outdoor and indoor heated swimming pools complete a wellness offer that also includes a new E-fitness area with virtual spinning and body balance classes, Technogym equipment and e-fitness rooms, etc., also allowing innovative superior-category rooms such as the "Swim-Up Studios" with direct access to the pool.
Innside by Meliá hotels are eclectic boutique hotels for business travellers which eliminate the boundaries between work and leisure through their interior design, fostering interaction, networking and social experiences. The so-called "Big Idea Space" refers to meeting rooms that are far from ordinary and ideal for encouraging creativity. In particular, the "Open Living Lounge" is an open and multi-functional lobby-meeting concept designed to be the "heart" of the hotel, with different ambiences and set-ups throughout the day, intelligent meeting spaces, round tables, connectivity and plugs everywhere, 360º bars with professional mixologists, an innovative restaurant and an open kitchen.
Innside's urban and open culture is also transmitted through its passion for its surroundings, with local art, music and DJs highly prominent. Another innovative strong point of the new Innside Palma Bosque is its rooms, which offer a "Super Room Experience", with Sampar bathroom amenities, minibar included in the room rate, and a modern, urban design. In the superior rooms the hotel offers an exclusive Sampar selection, Nespresso capsules and coffee maker, feather pillows, local beers and aperitifs, bathrobe and slippers, free juices and soft drinks, and design by local artists.
Acquired in Germany in 2008 when it had only 8 hotels, the Innside by Meliá brand now has 33 hotels in Europe, the Americas and Asia Pacific, and also has spectacular growth plans thanks to strong acceptance from consumers due to its modern concepts adapted to bleisure trends (combination of business + leisure), and also from investors and hotel owners due to its versatility and successful management formula.