Majestic Princess, the newest ship to join the Princess Cruises fleet, today made her maiden call to Singapore, berthing at the Marina Bay Cruise Centre and marking the completion of her 28-day voyage which started in Rome on 21 May. Majestic Princess' visit also marks the closing of the cruise season for 2016-2017 at Marina Bay Cruise Centre.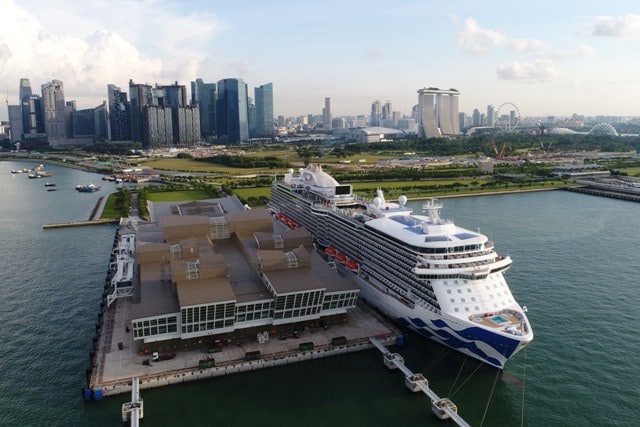 Today, more than 3,000 guests disembarked in Singapore with another new batch of over 3,000 guests embarking the ship to start a 21-day voyage to Shanghai, making eight stops along the way including Bangkok, Ho Chi Minh City, Xiamen, Hong Kong, Yokohama, Osaka and Incheon (Seoul). Some guests have opted to sail the entire 'Silk Road Sea Route', a 49-day journey that started in Rome on 21 May and ending in Shanghai on 9 July with 22 stops along the way.
Majestic Princess has a guest capacity of 3,560. Stretching 1,083 feet (330 metres) long with 19 decks, the 143,700-tonne Majestic Princess is operated by Princess Cruises, which is owned by US-based Carnival Corporation, the world's largest travel leisure company.
"We are thrilled for Majestic Princess to call at Singapore. The ship is fully booked with guests from across the world such as USA, UK, Australia and some are closer to home from Malaysia and Singapore. We are delighted these guests have shown great enthusiasm in wanting to sail on our new ship to try out her exciting new features which deliver an exceptional cruise experience," said Farriek Tawfik, Director of Southeast Asia, Princess Cruises.
Majestic Princess is the third ship in the Royal class of ships, representing the newest and largest ships in the Princess Cruises fleet, which includes the Regal Princess and Royal Princess.
"Majestic Princess is the newest, most stylish and most luxurious flagship in our fleet. She is stunningly beautiful and is equipped with world-class facilities such as the largest duty-free shopping at sea, Princess Luxury Beds which are specially designed by a sleep specialist and dinner menus from Michelin-star awarded chefs," Mr. Tawfik added.
Majestic Princess features world-class dining and facilities onboard including amenities tailored for Asian guests
Majestic Princess promises the ultimate cruise vacation for Asian travelers, offering Princess Cruises' renowned warm, welcoming, international service, now enhanced for our Asian travellers' satisfaction – featuring two specialty dinner menus by Michelin star-awarded chefs; "Fantastic Journey," the most technologically-advanced, immersive musical and cinematic production show at sea; and the Princess Luxury Bed developed with board-of-medicine certified sleep expert Dr. Michael Breus.
Majestic Princess offers facilities and amenities that appeal to Asian guests. The ship has the largest duty free shopping onboard any cruise ship, with nearly 1,100 square meters of luxury boutiques. In addition to Harmony Restaurant, it also has the Chopsticks Noodle Bar, Lobster & Dim Sum bar; karaoke suites; an indoor swimming pool called Hollywood Pool Club which turns into a nightclub at night; ballroom dancing classes and other facilities catering to the Asian guests.
The SeaWalk, a dramatic over-the-ocean glass walkway onboard Majestic Princess, is also the first of its kind at sea. At 60 feet long, cantilevered 128 feet above the waves and extending 28 feet beyond the edge of the ship, it boasts thrilling views of the seascape.
Majestic Princess will offer two new 14-Day Grand Asia voyages sailing from Shanghai to Singapore on 25 February 2018 and Singapore to Shanghai on 11 March 2018. Majestic Princess will also begin her deployment in Australia from September 2018 to March 2019 after which she will return to China.
Upcoming homeporting of Sapphire Princess in Singapore
Sapphire Princess will be homeporting in Singapore from November 2017 to March 2018 and will be making 3 – to 13-night sailings in Southeast Asia, bringing over 40,000 guests to this region for the entire five-month season. Sapphire Princess has a capacity of 2,670 guests and will be visiting ports of call such as Bali, Penang, Langkawi, Kota Kinabalu, Port Klang, Phu My (Ho Chi Minh City), Nha Trang, Laem Chabang (Bangkok) and Sihanoukville during this upcoming season.