A recent Familiarisation Tour on 18 May to the Shakespeare's England area has been hailed a great success and has helped showcase what a fantastic destination Shakespeare's England is for meetings, incentives, conferences and events.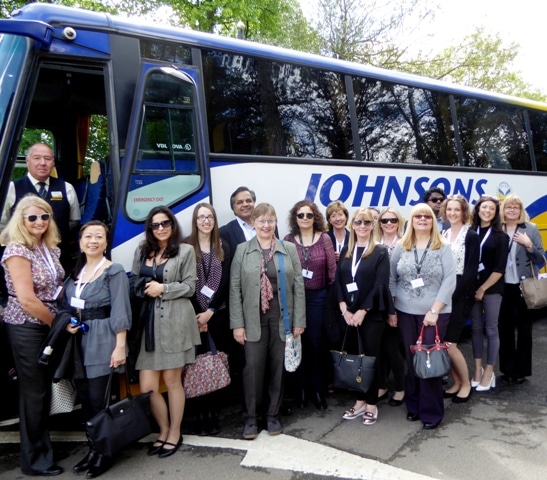 Over 30 in-house corporates, PA's, event planners and conference organisers joined a day trip to experience some of the wide range of conference and events facilities in the area. The Familiarisation Tour was organised by 'Meet Shakespeare's England', the Business Tourism part of Shakespeare's England DMO with support from key SE members including Chiltern Railways, Q Hotels, Warwick Conferences, Warwick Events, Warwick Racecourse, Warwick Castle, Johnson's Coaches, Eden Hotel Collection, Ardencote and the Royal Shakespeare Company in order to showcase the region.
The group met at Warwick Conferences for a fabulous light breakfast and were given tours of Scarman & The Slate, two of their dedicated venues. The group were then split into two and given either the option of a Warwick or Stratford-upon-Avon based tour. One group visited Ardencote, Mallory Court Country House Hotel & Spa with lunch, Warwick Race-course followed by a Junk & Disorderly activity with Warwick Events. The second group visited The Arden Hotel in Stratford-upon-Avon then had a conference & costume tour of The Other Place (RSC) followed by lunch at The Stratford and a visit to The Stratford Manor. Both groups met at Warwick Castle at the end of the day for drinks and canapés.
Helen Peters, Chief Executive of Shakespeare's England said "Shakespeare's England is well known for its leisure tourism offer. In 2016 we began our initial foray into Business Tourism and in March we launched a new 'Meet Shakespeare's England' brand to promote business tourism to both international and domestic markets. Now seemed the right time to host this Familiarisation Tour and promote the area as a prime destination to the MICE market. It was a great opportunity to showcase some of our first class conference and meeting facilities. Some of our guests admitted that they were not aware of our broad offering and the Tour was fundamental in changing people's perceptions and encouraging more businesses to book events and meetings in our region".
Gail Tomlinson-Short, Business Development Manager at Warwick Conferences said "Being a member of Shakespeare's England is vital to our development. From sole traders to the region's largest firms, Warwick Conferences are proud to be part of such a vast and vibrant collection of what makes Warwickshire so great".
Shakespeare's England combines the rich heritage of Shakespearian England with an easy to reach location and affordable conference and meeting rates. Shakespeare's England has the perfect blend of having an accessible location, exciting MICE activities along with the history and heritage associated with Shakespeare as well as some of the finest hotels in the Midlands.