United Airlines (UAL) announced today updates to its transcontinental service beginning July 1 including: adding Boston—San Francisco to its premium transcontinental route network, upgrading meal service and amenities for customers seated in business class and adding complimentary hot meal and beverage service for customers seated in Economy Plus.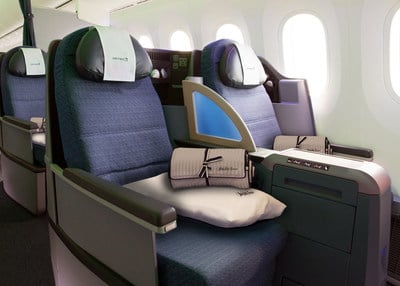 Elevating the Premium Transcontinental Service
Customers ticketed in premium transcontinental business class will enjoy a flat-bed seat and will benefit from enhanced food and beverage offerings inspired by United Polaris onboard dining, as well as deluxe amenities including:
180 degree flat-bed seats for a more relaxing and sleep-enhancing flight.
Custom-designed duvet and pillow provided by leading luxury specialty store and New York-bred retailer Saks Fifth Avenue and new amenity kits designed by Saks that feature product from Soho House & Co's Cowshed Spa.
A featured cocktail, the Moscow Mule by Crafthouse Cocktails. Created at a bar on the Sunset Strip in Los Angeles more than 75 years ago, the Moscow Mule will be accompanied by a candied ginger skewer and lime wedge.
Hot towel service will be offered after take-off and prior to landing.
Seasonally refreshed menus, developed in partnership with The Trotter Project and its critically recognized chefs including several from cities served by United's premium transcontinental service. The chefs include Della Gossett of Spago Beverly Hills, David LeFevre of California's Manhattan Beach Post, Mitchell Nordby of San Francisco's Parallel 37 at the Ritz Carlton Hotel and Michael Armstrong of New York's Dream Downtown and Bodega Negra. Sample fare includes pumpernickel and goat cheese crostini with mango relish and smoked sea salt; savory pan roasted chicken with kale pesto; orzo with grilled artichokes, a staple of California, and sautéed leaks; and braised short ribs with creamy goat cheese grits.
Dining will be topped off with items inspired by the popular United Polaris dessert menu.
Before arrival, snacks such as Boulder Canyon potato chips and Madik's almonds will be served.
New features not currently offered to business class customers on these routes include the Moscow Mule, desserts inspired by the United Polaris menu, pre-arrival hot towel service and pre-arrival snacks. Transcontinental business class customers will continue to enjoy United Club access to freshen up, relax and enjoy complimentary food and beverages prior to departure or upon arrival, as well as Premier Access priority check-in and boarding.
Introducing the Premium Transcontinental Economy Plus Experience
Customers seated in Economy Plus will also enjoy a coastal-city-inspired menu, at no additional charge. Beginning on flights in July, this will feature industry-leading meal service, including a complimentary hot fresh entrée, dessert and fruit, a pre-arrival snack and alcoholic beverages. Sample menu selections include savory roasted chicken with a smoked barbecue sauce and butternut squash tortellini with sage cream sauce. Dessert options will include New York's favorite sweet treat, cheesecake, as well as a chocolate brownie and fresh seasonal fruit.
"Customers traveling in Economy Plus will receive the industry's best economy cabin dining experience," noted Krolick. "Flying between Boston or the New York area and the west coast can be akin to flying from the east coast to Europe, and we want to provide a satisfying and unparalleled meal in our Economy cabin. This enhancement to Economy Plus is our first step toward a premium Economy offering for our customers."
Available on all transcontinental flights, Economy Plus seats provide more room to work and relax.
Welcoming Boston as a Premium Transcontinental Market
United will expand its business class premium service and popular flat-bed seating to flights operating, in both directions, between Boston and San Francisco. This route will now feature up to 28 flat-bed seats per departure.
"United offers Boston customers the industry's leading schedule between Boston and San Francisco with the most departures, the greatest number of seats and the only wide-body service," said Krolick. "Now, as a premium transcontinental market, we are increasing significantly the number of business class seats available to Boston travelers on this route. Moreover, Boston business customers connecting via SFO, our Asia/Pacific hub, to destinations throughout the Asia Pacific region will be able to enjoy a flat-bed business class seat for the duration of their journey."
United serves all seven of its domestic hubs plus Cleveland nonstop from Boston. With the new schedule, the airline will offer customers the widest range of flight times including early morning options from both San Francisco and Boston, an 8:30 p.m. departure from Boston and multiple overnight flights from San Francisco. The most popular timings in peak periods will operate with widebody Boeing 777 aircraft including 8 a.m. service from San Francisco and an early evening Boston departure, ideal for business customers traveling at the end of the work day. Along with the market's only widebody service, the airline will also operate Boeing 757-200 aircraft on this route.
United in Los Angeles
From Los Angeles, United offers southern California travelers more seats than any other airline to key business and leisure destinations such as New York; San Francisco; Chicago; Denver; Washington, D.C.; and Houston as well as popular destinations in Aspen, CO; Steamboat Springs, CO; Bozeman, MT; and Jackson Hole, WY. The airline also provides nonstop service to the most Hawaiian Island destinations via LAX.
United transcontinental customers ticketed in business class will have access to the airline's newest United Club location, which opened in November 2016. The jewel in the airline's $573 million project to refresh nearly all of its customer-facing spaces in Terminal 7 and Concourse 8 at LAX, this United Club space is one of the airline's largest and most stylish. The location features a gourmet kitchen and bar offering expanded food and beverage options; seating areas conducive to working and lounging; and spectacular views of the airport, the Hollywood Hills and the Los Angeles skyline. The design also takes advantage of the city's gorgeous year-round weather, with a spacious and scenic outdoor terrace where customers can relax with a cocktail or a meal alfresco.
United in New York
With United, New York area customers have access to the most flights, the largest number of seats and the highest amount of premium seats for travel from EWR to Los Angeles/San Francisco.
United's Terminal C at EWR, described as a "culinary oasis" by The New York Times, continues its $120 million upgrade with many new dining creations by internationally and locally-acclaimed chefs, including four with Michelin stars. They include DAILY, the only airport restaurant in the world where the entire menu changes daily, emphasizing local ingredients at peak freshness; Thyme, an all-vegetarian restaurant created by veggie-forward wunderkind Chef Amanda Cohen; and Little Purse, specializing in dumplings and noodles, developed by two-time Top Chef contestant Chef Dale Talde.
United in San Francisco
United is San Francisco's leading airline, with approximately 300 daily departures to nearly 100 destinations. United's SFO hub operates as a gateway to Asia Pacific with the airline flying to 14 destinations across the region. These routes provide U.S. travelers with convenient access to some of China's most dynamic cities and give Chinese travelers access via San Francisco for onward connections to destinations throughout the U.S., Canada and Latin America.