Qantas has introduced mobile check-in and digital boarding passes for customers travelling between Australia and New Zealand, the first step towards more seamless travel across the Tasman.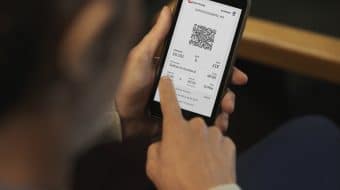 The technology is being rolled out as part of the airline's strategy to speed up the journey through the airport for customers travelling internationally.
Until now, customers travelling across the Tasman were typically required to queue up for a printed boarding pass. The new technology allows eligible customers travelling between Australia and New Zealand to finalise check-in and passport checks online and head straight to the lounge or boarding gate after passing through immigration and security – all with the digital boarding pass on their mobile device.
The offering will be initially made through web and mobile (Qantas.com) before being extended to the Qantas app in June 2017. From this time, Qantas will also look to extend the service from its trans-Tasman routes to other destinations on its international network.
It comes shortly after Qantas gave its backing to Australian and New Zealand government efforts to streamline border processing for customers travelling across the Tasman, calling for a renewed effort to make the experience more like domestic air travel.
Qantas International and Freight CEO Gareth Evans said the initiative had been on the national carrier's agenda for a long time. Implementation of the technology is expected to be completed across all relevant airports by early 2018.